Francois Hollande: Eurozone must defend its currency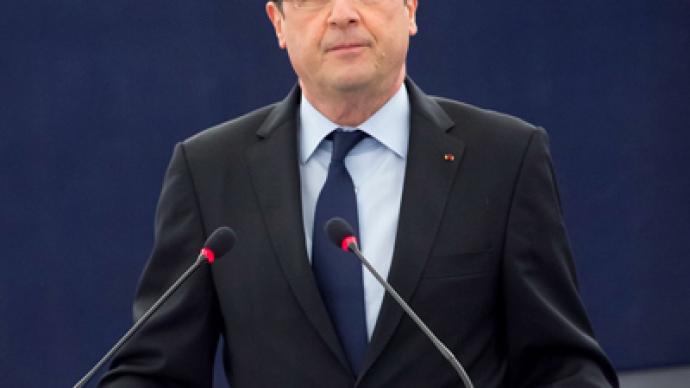 Europe must defend the vulnerable euro by developing an exchange rate policy says French President Francois Hollande. He also warned against the dangers of too much austerity, in a speech given to the European Parliament on Tuesday.
­"Europe… is leaving the euro vulnerable to irrational movements in one direction or the other," said Hollande. He is concerned that the strength of the Euro in relation to other countries (1.35 Euros to the dollar) is making exports too expensive, and in this way could harm wider economic growth through falling demand.
"Saving money: yes, weaken the economy: no," he said.
"A monetary zone must have an exchange rate policy or else it ends up subjected to an exchange rate that does not match the true state of its economy," he stated, pointing out the need to re-balance.  He stopped just short of calling for establishing exchange rate targets.
Countries with surpluses and high competitiveness should boost domestic demand in order to allow other countries with less the chance to return to economic stability and activity, said Hollande.
Despite advocating the independence of the European Central Bank, he called for the international monetary system to be reformed to better protect European economic interests. Although recognizing the conflicting interests among the states, he declared that he was is in favor of a policy conducive to growth and solidarity, for Europe as a whole.
He declared that although the Eurozone has moved on from the worst parts of its financial crisis, the union cannot afford "endless austerity."
"The threat we face now is no longer the mistrust of the markets but that of the people," Hollande said. He is a proponent of strong economic growth in place of cutbacks.
 His remarks come just two days before a meeting in Brussels to discuss the  EU budget for the period 2014-2020