Greenland lifts 'zero tolerance' uranium mining ban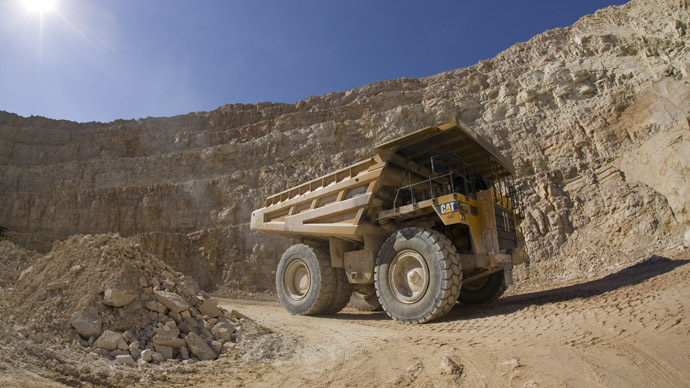 Warming to foreign investment in the mineral-rich island, Greenland's parliament has voted to end a 25-year ban on uranium mining to attract buyers like China, the world's largest importer of natural resources.
The 31-member parliament voted in favor, 15 to 14, to end the prohibition of mining for radioactive materials such as uranium, thorium, and rare earth deposits, after a legislative amendment was made in September. 
Australian-owned Greenland Minerals & Energy sees the amendment as a crucial step to develop Kvanefjeld, a mineral field in southern Greenland the company estimates has the potential to extract up to 40,000 tons of rare earth metals, and could even rival China's deposits, home to more than 90 percent of rare earth metals.

Lifting the ban will also allow for extraction of rare earths, which are used in the batteries of electric cars, weapons, wind turbines, and smart phones.

"We cannot live with unemployment and cost of living increases while our economy is at a standstill. It is therefore necessary that we eliminate zero tolerance towards uranium now," Greenland Prime Minister Aleqa Hammond was quoted as saying by local newspaper Sermitsiaq.
Approval from the Danish parliament will be needed, as Greenland is a semi-autonomous territory of Denmark, which it received independence from in 2009.

Denmark's Trade Minister Nik Haekkreup, said on Friday that Greenland can't unilaterally decide to lift the ban.

"After that the Greenlanders and the Danes are going to start hammering all the legal aspects. We will not be mining on Friday, nor next year, or 2015," Cindy Vestergaard, a senior researcher at the Danish Institute for International Studies, said.

Since gaining the right to self-govern politicians have looked to the island's natural resources as a gateway to financial freedom. Currently, Denmark subsidizes about 60 percent of government revenue.

An export-dependent fishing-based economy, Greenland has a population of only 56,000 and hasn't been able to fully-tap into, or develop infrastructure, around their natural resources industry.

If Greenland opens up to Chinese, Australian, and American mining companies there is a possibility the country can reduce its dependence on its former colonial power.

What lies beneath
Interest in the mineral-rich island has increased as its robust mineral wealth becomes more accessible as Arctic ice accelerates its thaw.

Oil and gas, iron, copper, uranium, nick, and zinc are mostly concentrated in coastal areas, and are attracting investors from Australia, China, the US, and the UK.

Australia's Ironbark Zinc said it is working in cooperation with a Chinese company on a $485 million base metals mine in northern Greenland.

Canada's True North Gems wants to further explore ruby-mining in Greenland.

"Mining will come to Greenland," Prime Minister Aleqa Hammond told the WSJ in an April interview.

London Calling
London Mining PLC said on Thursday it has been awarded an exclusive 30-year iron ore extraction contract in Greenland. The statement said it would pay royalties on sales and taxes to Greenland.

The project, called 'Isua' is estimated to cost $2.3 billion, more than the island-nation's $2 billion GDP.

UK-based London Mining said it could extract 15 million tons from the open-pit mine, which it plans to staff with 3,000 Chinese workers.

Greenland passed a law in December allowing companies to pay foreign workers a lower wages, which could undermine the local Greenlander workforce, which is largely unskilled.

The project site is located about 90 miles northeast of Nuuk, the country's capital, and would help develop infrastructure like ports and diesel power plants.