Are we there yet? 'Greek Drachma' on Bloomberg ticker (PHOTO)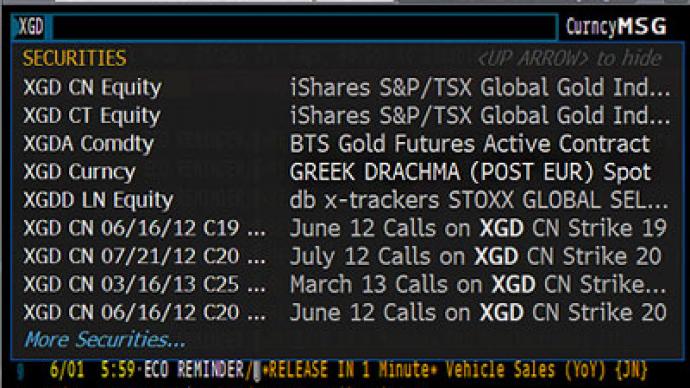 Traders around the world have been staring at their Bloomberg screens, hardly believing their eyes. The electronic information platform has been showing details for possible Greek Drachma trading.
The Bloomberg helpdesk described it as "an internal function which is set up to test." The news comes in the wake of the heated discussions over the future of the euro zone and the membership of Greece. While many experts insist that Greece should leave the Euro and default, some suggest it should remain the union and introduce a parallel currency to the Euro to repay the country's debt.The Head of the European Investment Bank Werner Hoyer said on Tuesday that Greece will be able to remain a member of the union. "Greece will have the opportunity to solve the huge problems that it is facing. Continuing support from the EU will contribute to this, in case, of course, the very Greeks would want that," Hoyer said.And a survey at the weekend showed that Greeks prefer to stick to the Euro and not revert to the old drachma.The Greek Drachma details have now been taken down from the Bloomberg service.
‏@russian_@economistmeg / Greek drachma post euro (XGD) shows up on Bloomberg
@russian_market / It's really weird to see Drachma back on Bloomberg $XGD