Greek parties agreed to seek bailout revision
Published time: 21 Jun, 2012 13:44
Edited time: 21 Jun, 2012 17:44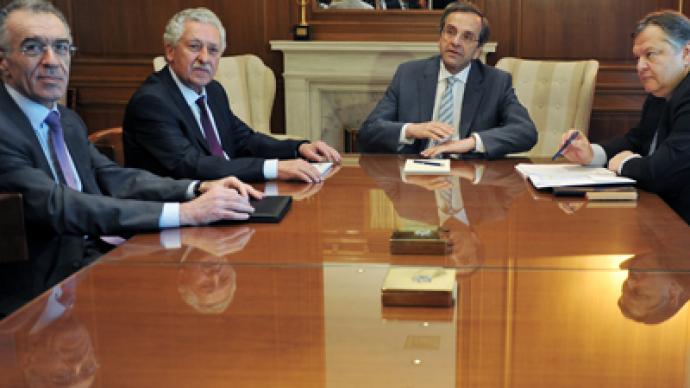 The new Greek Government is due to ask international lenders for a two year extension on the bailout terms in order to balance between public demands for a softer austerity policy and pressure from the Troika.
­The document calling for two more years to the 2014 deadline for Greece to reduce its budget deficit to 2.1% from 9.3% in 2011 was agreed between officials of the coalition government including the conservative New Democracy party, which won a majority on Sunday, and its allies, the PASOK socialists and Democratic Left, Reuters reports.
The government reportedly plans to renegotiate a 22% cut of the minimum wage of 750 euro as well as to extend the payment of jobless benefits to two years from one.
Meanwhile the line-up of the new government is expected to be unveiled later on Thursday, while New Democracy leader Antonis Samaras was sworn in on Wednesday as Greece's new Prime Minister after meeting with President Karolos Papoulias.
The country faces challenges while discussing possible term breaks as its main lender Germany is resisting any changes in the bailout terms. The new government is feeling growing public pressure against the harsh austerity terms, including pension cuts and lay-offs.