Tell-all Goldman Sachs Twitter 'employee' exposed as man from Texas, not Wall Street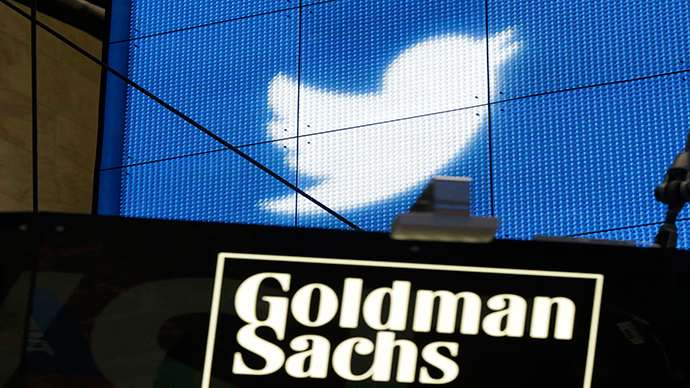 The source behind the Twitter handle @GSElevator Gossip, which chronicles 'overheard' elevator conversations at Goldman Sachs, is not actually a Wall Street insider, and not even an employee, US media has revealed.
A spin-off of popular sites 'Overheard in New York' or 'CondeElevator', @GSElevator has over 600,000 followers and chronicled the daily banter of Goldman Sachs employees, starting in the elevator, and later expanding to trading floors, lobbies, and bars and nightclubs. The comments were understood to be uninhibited and uncensored, to reveal employees true attitudes towards money and women.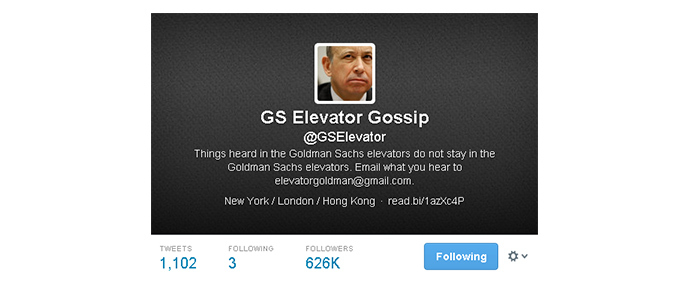 The Twitter account prompted Goldman Sachs to open an internal inquiry to try and track down the tweet-happy employee, but since the author is 34-year-old John Lefevre, a former bond executive who now lives in Texas, it was hard to track him down.
#1: If you can only be good at one thing, be good at lying… Because if you're good at lying, you're good at everything.

— GS Elevator Gossip (@GSElevator) July 26, 2013
Leferve worked for CitiGroup for six years in New York, London, and Hong Kong, but never at Goldman Sachs. He was offered a job as head of debt syndicate at Goldman's Hong Kong office in 2010, but the offer was later revoked, according to people at the firm.
"I was never explicitly an employee of the firm," the New York Times quoted him as saying. Leferve said he used the Goldman Sachs brand in the Twitter account not for revenge, but as a recognizable brand of Wall Street.
Overheard musings identify speakers as 'Suit 1', and 'Suit 2', who would make comments about flying first class, what types of attire are suitable for bankers, and ranking women on a scale of 1-10.
#1: If you want to understand Quantitative Easing, imagine Van Gogh painting 10 paintings a day, every day, for 50 years.

— GS Elevator Gossip (@GSElevator) May 7, 20133
The pseudonymous account was started as a joke and was an idea formulated with a friend while at a bar, Lefevre said.
Social media success led the author to score a book deal based on the tweets. The forthcoming book, due in October 2014 is called 'Straight to Hell' and is a gathering of the "true tales of deviance and excess" on Wall Street. The book deal is reportedly worth a six-figure sum, New Yorker Magazine reported in January.
It is unknown at this point whether the book deal stands after the author's authenticity has been discredited.
Lefevre isn't the first ex-banker to gain fame and fortune from a Wall Street tell all. Greg Smith announced his resignation from Goldman Sachs with an Op-Ed piece in The New York Times 'Why I'm leaving Goldman Sachs', where he outlined the greedy culture that sidelined client's interest for the company's own. Smith was a director of equity derivatives and worked at the bank for 12 years. His book earned him $1.5 million from publishers, but didn't fare well in sales.
You can share this story on social media: