Gemstone mining buys Faberge business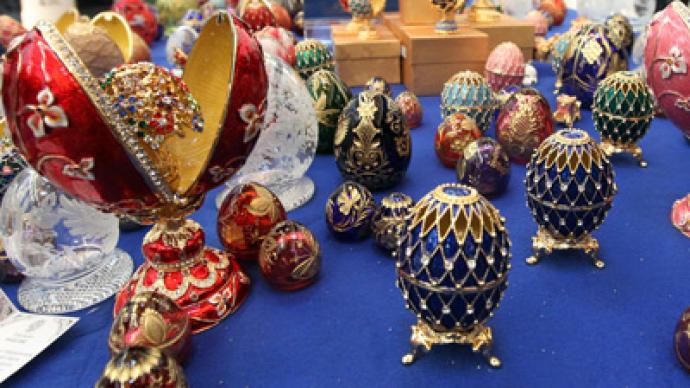 British emerald mining company Gemfields plans to purchase the jeweller Faberge, famous for the jewelled Easter eggs made for Russia's tsars, for $142 million.
"Gemfields plc, the leading gemstone mining and marketing company, announces its proposed acquisition of a 100-percent interest in Faberge Limited with a view to creating a globally recognised coloured gemstone champion," the company said in a statement.Currently Faberge is owned by the Pallinghurst Group of Brian Gilbertson after being bought out from Unilever for $38m in 2007. Mr Gilbertson and his investors also hold 63% of Gemfields. After the deal is struck, Faberge will be merged with Gemfields."Faberge will provide Gemfields with direct control over a high-end luxury goods platform and a global brand with an exceptional heritage," Gemfields said.Under the terms of the proposed takeover announced on Wednesday, Gemfields will issue up to 214 million new ordinary shares, expanding the emerald miner's share capital by two-thirds."The combination with Gemfields presents a unique platform to further develop coloured gemstone products in new and existing global markets," Faberge managing and creative director Katharina Flohr said in the statement.Fabergé was founded in 1842 by Gustav Fabergé and made 50 jeweled eggs that were purchased by the Imperial Russian family between 1885 and 1916. Its business was destroyed by the Russian Revolution in 1917 and the Faberge family left for the US.After the World War II Faberge lost the rights to the brand name and became better known for its mass-market fragrance. In 1989 it was acquired by Unilever for $1.55bn.Faberge business was at the center of a recent court battle between Gilbertson and Russian oligarch Viktor Vekselberg in the Cayman Islands. Vekselberg and his Renova group claimed $82mln in damages, saying Gilbertson pushed him out of the deal to acquire Faberge from Unilever. The Russian tycoon won the case but was awarded no compensation.