Gazprom no longer world's most profitable company
Published time: 30 Apr, 2013 11:25
Edited time: 30 Apr, 2013 12:41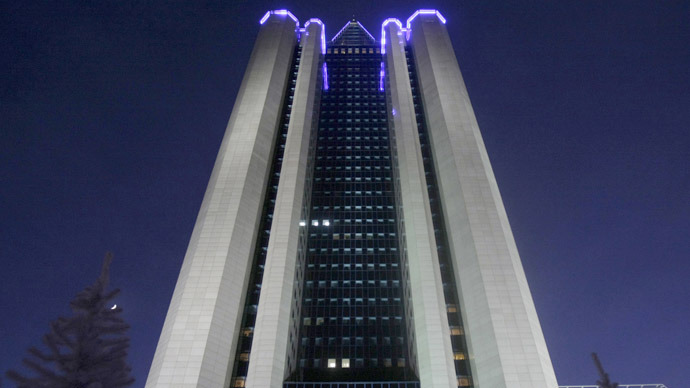 The world's major natural gas producer, Russia's state-run OAO Gazprom has posted a 9.5 percent drop in profits for 2012 on falling LNG demand from Europe and growing costs. It's the first decline in over ten years. 
The company's net income fell to 1.18 trillion roubles ($38 billion) from 1.3 trillion in 2012, a Gazprom corporate statement released on Tuesday said. Gazprom is now in third place behind ExxonMobil with $44.88  billion and Apple with $41.75 billion. 
Growth in gas market prices helped to compensate for the drop in sales, and contributed to the growth in revenue to 4.76 trillion roubles ($152 billion). However the company was also sensitive to rising operating expenditure. Spending jumped 18 percent to 3.48 trillion roubles ($111 billion) because of a jump in oil and gas purchases, the mineral extraction tax, and staff costs, Bloomberg reports. 
Exports to Russia's main LNG buyers in Europe dropped by 3.6 percent last year. Sales also fell in the domestic market and the CIS countries. 
The full-year net income drop has previously been posted by the Russian gas giant over a decade ago in 2001.
Recently Gazprom has been facing increasing pressure from domestic rival Rosneft, which has significantly boosted its gas assets, especially following the purchase of TNK-BP, and a controlling stake in Itera. 
Rosneft has already declared its intention to boost gas production to 100 million cubic meters per year. Gazprom produced 478 cubic meters in 2012. Recent reports said the Rosneft claims natural gas deposits also targeted by Gazprom. Previously Gazprom and Rosneft interests did not cross, with Gazprom focused on gas production and Rosneft getting licenses for oil fields.