​Gazprom Neft CEO says ditch dollar, look east if sanctions escalate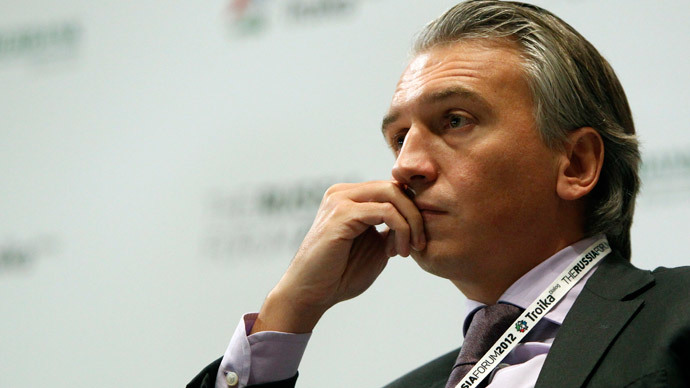 The oil arm of Gazprom says 95 percent of foreign partners are ready to do business in the euro. The company's CEO said it could divert exports to Asian markets should the West intensify sanctions.
A study reveals the task in changing currencies is achievable assured Aleksander Dyukov, the Gazprom Neft chief executive.
"This shows that in principle there is nothing impossible - you can switch from dollar to euro and from euro, in principle, to rubles," as Vedomosti quotes Mr Dyukov.
The Gazprom Neft CEO said it's important to also study the efficiency of the plan, its probability, and additional losses.
The CEO considers there is a low probability Western banks will reduce cooperation. No one wants geopolitical tension to affect their partnerships. However Gazprom Neft is ready to look to Asian lenders, and raise money in Russia.
"We think Western banks are unlikely to stop cooperating with us, but in any case we have paved a way to Asian lenders as well... plus there is a domestic market," Dyukov added.
There is an opinion that any restrictions by the US directed at halting dollar operations, in the long-term, may lead the United States to a default, Dyukov says.
"The US currency is already loosing positions…The usage of the dollar as an instrument of punishment may decrease its weight as the reserve currency…Taking into account its huge national debt, at some instant there will be a problem with its refinancing as dollar assets will become interesting to nobody," the top manager said.
In comments on other possible action by the West, Dyukov said that the US oil sale test on March 14 of 5 million barrels from its own strategic inventories could not shake the world oil market from equilibrium.
"Frankly speaking, I don't know, what they were guided by. But that was made, in my opinion, as shot by shot to the elephant. The oil market, certainly, can be altered, but for that to happen it needs bigger volumes," said Dyukov.
According to his calculations the minimal amount of oil to be sold in order to affect the world market should be around 3 million barrels a day long-term.
The head of Gazprom Neft supposes that none of the global oil manufacturers is interested in lowering the price. In particular, in the US where the cost of production of hardly extractable oil is high and any reduction in cost of raw materials will cut a projects' profitability.
The world oil price remains robust as the May 14 futures of the WTI crude stand at $100.60, while Brent is selling at $105.63
You can share this story on social media: