Gazprom's exports to Europe come at a higher price in 2012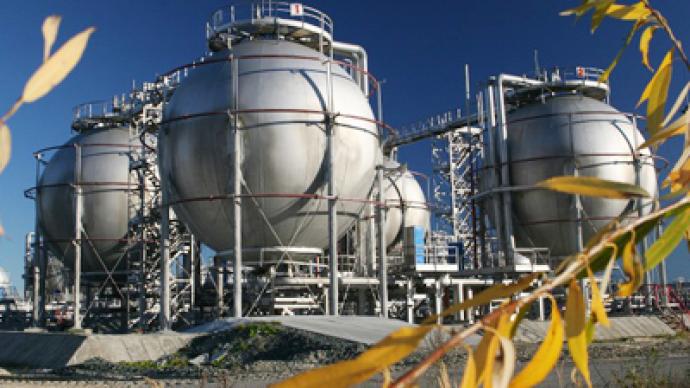 Russia's major gas producer Gazprom is going to keep exports to Europe in 2012 at the same level as 2011 - 150 billion cubic meters, and put up the price.
Previously Gazprom forecast exports to Europe would grow 2.6% to 154 billion cubic metres, with the price up to $415 per thousand cubic metres from current $384. After negotiations with European customers Gazprom decided to keep prices higher while postponing the delivery of some volume. "Choosing between 154 billion cm at a lower price and 150 billion cm at a higher price we choose to export 150 billion", Alexander Medvedev, Gazprom Deputy CEO explained.Mr Medvedev pointed out the 150 billion cm is a minimum level of supply in terms of Gazprom's long term contracts. However, the rates of gas supply in April were in line with a 164 billion cm delivery plan, according to him."I am sure volumes will be at last year's level and probably even more," Medvedev added. "Even if we export 150 billion cm, the revenues will not decline; it will be quite the same as with 164 billion."Gazprom's share at the European market grew to 27% in 2011 from 23% in 2010. The gas producers expect to boost its share up to 30% by 2020. Gazprom is still struggling to get its projects in line with the new European Union energy policy aimed at separating energy production from distribution. This may affect Gazprom's privileged position at the European market as the company is involved in both transmission of energy and its production. "Recent negotiations made clear, that there is light at the end of the tunnel," said Medvedev. "I hope it won't die out and would be able to carry on our projects". Gazprom has been pressing for special status for its gas pipeline as Norway has already done. Gazprom also faces a 50 billion roubles bill from the new mining operation tax. The Russian Ministry of Finance plans to introduce a special tax scheme for Gazprom as the company is due to raise domestic prices. The payment may be up to 80 per cent of the additional revenue Gazprom will get from the price hikes. Currently the company negotiates its taxes with the Government in order to keep some revenue for modernization.
You can share this story on social media: