Gazprom plans reform of assets to avoid EU probe - report
Published time: 20 Sep, 2012 19:20
Edited time: 20 Sep, 2012 23:20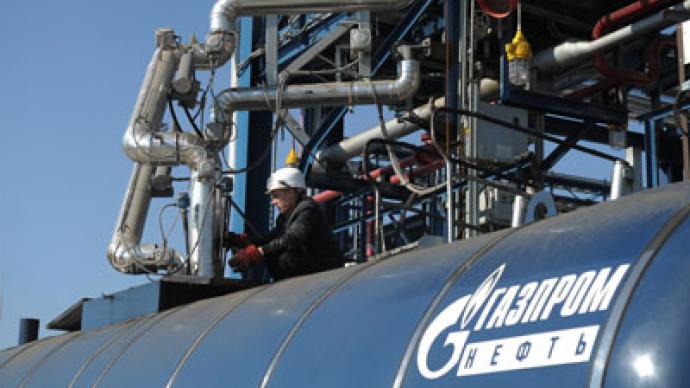 Russian gas monopoly Gazprom, will reportedly reform its European assets to meet the requirements of EU's "third energy package" and avoid anti-trust claims by the European Commission.
The planned change implies the creation of two subsidiaries of Gazprom to sell gas to European customers instead of the existing single entity.  It's thought this will help Gazprom avoid EU claims that it has hindered the free flow of gas to its member states, reports Interfax agency.
The ruling, adopted by the European Union in 2009, prohibits gas companies to operate both – distribution and transport networks.
The EU hoped that the adoption of amendments to the legislation will enable the region to reduce its dependence on Russian gas supplies and to increase competition in the energy market. Gazprom was against the adoption of the package.
Now Gazprom sells gas to Europe through its subsidiary Gazpromexport. The latter, owns 100% of Gazprom Germania GmbH, which owns the assets of "Gazprom" in European countries, including Britain Gazprom Marketing & Trading Limited, a Swiss trader Gazprom Schweiz AG and shares in Wingas and Wintershall.
The European Commission is currently investigating whether Gazprom, the world's largest gas exporter, resorted to unfair competition and price-fixing in Central and Eastern Europe's natural gas markets. The EU, which gets 25% of its gas from Russia, claims that Gazprom has hindered the free flow of gas to its member states, preventing supply diversification and limiting customer choice in delivery points.
The planned reform, which Gazprom declined to comment on, may help the gas giant avoid EU claims, through the creation of two subsidiaries of Gazprom – infrastructural Gazprom Storages & Transport and Trading GMT Holding. The first of the holdings will embrace Gazprom Germania, gas storage and transport networks and the second will sell gas. It is unclear where the new structures will be registered: in the UK, Switzerland or Luxembourg. Interfax quoted unnamed sources as saying that if the new structures are registered in Switzerland, holding companies can avoid checks by the EU authorities. The European Union also demands the price for imported Russian gas to be identical across the European Union.
Gazprom retaliated by accusing the European Union of levying political pressure against the company in a bid to force down fuel prices.