Russia gets closer to making its gas way to Europe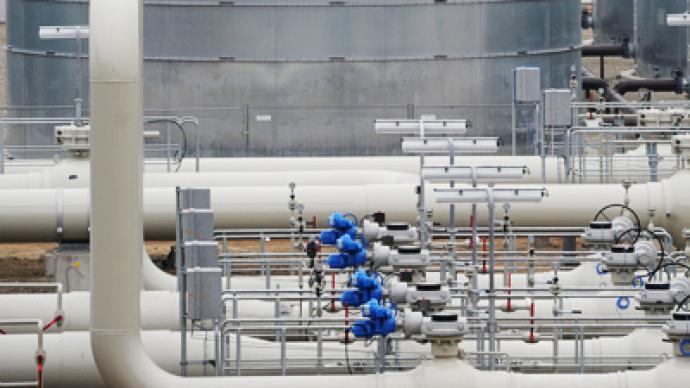 The South Stream pipeline is finally taking shape as shareholders have agreed to build the northern leg of pipeline to Austria first. Construction will start sooner than expected in December of this year.
Russia is trying to diversify its gas transportation routes to Europe and plans to start using the pipeline in 2015.The South Stream pipeline will carry 63 billion cubic meters of natural gas to central and southern Europe. "The exclusive transit of our gas for several countries goes down, but the significance of our partners remains major, and I hope that the joint work with Ukraine, Belarus and probably with Turkey in the future will be continued and built on the mutually beneficial basis," said Prime Minister Vladimir Putin, commenting on the launch of South Stream and Nord Stream Pipeline.
Russia's Gazprom has 50 percent of the South Stream project; Italy's Eni has 20 percent, and Germany's Wintershall and France's EDF 15 percent each.
Gazprom's CEO Aleksey Miller noted that after the Nord Stream gas project was pumping at full capacity "the role and significance of Ukraine as an exclusive Russian gas transit country will be reduced."
Until recently, Russia has been transferring up to 80 percent of its gas to European consumers through Ukraine. In 2011 Ukraine said it would import less Russian gas because of the price was too high. As a result Russia started looking for alternative gas transit opportunities and reducing gas transfer through Ukraine. As of the end of March 2012, Russia decreased the volume of gas transiting Ukraine by 50 percent, reported Ukrainian national energy giant Naftogaz.
Meanwhile, Ukraine, which is transporting Russian gas to Europe, seems to be unwilling to loosen its grip on Russia, trying to confirm the vital importance of its gas transit system.
According to the Ukrainian state gas pipelines and gas depots operator Ukrtransgas, Gazprom requested Ukraine to increase its daily transit capacity of Russian gas to the EU by 17.3 million cubic meters or about 7 percent.
The request is associated with temporary repairs on the Russian North Stream gas pipeline.
The capacity of Ukrainian gas transporting system amounts to 110 billion cubic meters per annum, while the planned capacity of the Russian Nord Stream pipeline is up to 30 billion cubic meters per year. Until now Nord Stream has been operating at 30 percent capacity transferring 27 million cubic meters per day which amounts to less than 10 billion annually.
However Russia's South Stream Pipeline, once it gets developed, according to Christine Tiscareno, oil and gas equity analyst with Standard and Poors, may increase its capacity.
"The development of the Black Sea and the Kara Sea envisaged by the deal signed between Russian Rosneft and America's Exxon Mobil would be good, as it will allow increasing the capacity, using the potential reserves that can be piped to Europe using South Stream".
You can share this story on social media: