Spanish gas company sues fraudster in Ukrainian $1.1bn LNG deal
Published time: 18 Dec, 2012 13:36
Edited time: 18 Dec, 2012 17:37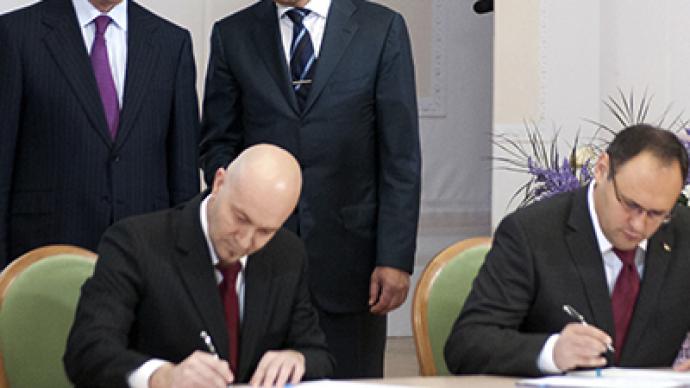 Spanish energy company Gas Natural Fenosa has filed a lawsuit against the imposter who signed an agreement on behalf of the company with Ukraine to set up a $1.1bn LNG consortium.
The gas company said it was Spaniard Jordi Sardá Bonheví who had managed to fool top officials in Ukraine.
Reuters reported a telephone conversation with a man in Barcelona who identified himself as Mr. Bonheví and said he had signed the agreement, though he had no authorization from Gas Natural to do so.
"I thought I could sign it and then settle it with the company," he said, according to Reuters, which added that it could not independently establish the man's identity.
In November the man signed a cooperation agreement with Kiev to jointly construct an LNG terminal on the Black Sea. Reports from Ukraine said the document didn't include any binding terms, like the obligation to pay by any party.
"The agreement with Ukraine to set up a consortium for construction an LNG terminal doesn't include a clause about the budget of $1.1bn.," according to a source from the international department for the Ukrainian administration talking to RBC – Ukraine. It was rather a confirmation of the two parties' intention to construct the infrastructure to deliver LNG to Ukraine, the source added.
The deal aimed at making Ukraine more independent of Russia's gas was signed in the presence of top officials including Ukraine Prime Minister Mykola Azarov, Energy Minister Yuriy Boyko and Vlad Kaskiv, head of Ukraine's state investment agency.
The press release said then that it was Director General for Communication at Gas Natural Fenosa (Spain) Jordi Garcia Tabernero who put his signature for the Spanish company. But headquarters in Spain were quick to deny they had signed any papers.
Ukraine's state investment agency named Jordi Sardá Bonheví as an imposter, with Gas Natural Fenosa adding that Bonheví didn't represent the company and it wasn't aware of the project and didn't plan to take part in that.
Ukraine intends to reveal more details of the con. "In the coming days we'll learn the real circumstances of the incident," Kaskiv told the Ukranian YHIAH news agency.