​G20 aims for $2tn extra economic growth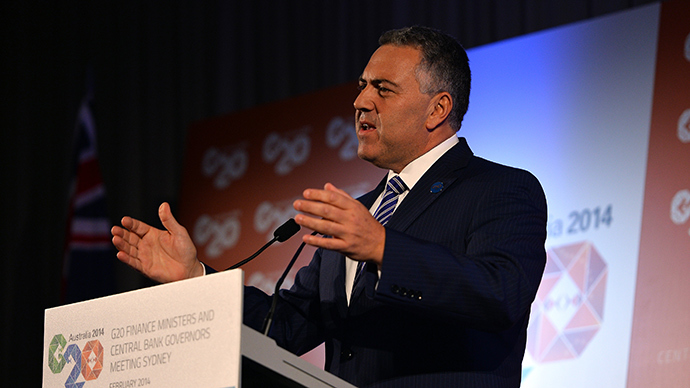 The financial leadership of the G20 countries say they want to generate $2 trillion of extra output over the next five years, providing tens of millions new jobs. It's the first time the G20 has put a figure on growth plans.
The decision by the countries, which account for around 85 percent of the global economy, came following a two-day meeting in Sydney.
"We will develop ambitious but realistic policies with the aim to lift our collective GDP by more than 2 percent above the trajectory implied by current policies over the coming five years," the conclusion of the G20 meeting states.
Joe Hockey, the Treasurer of Australia, who hosted the meeting, called the announcement from finance ministers and central bankers "unprecedented."
"We are putting a number to it for the first time - putting a real number to what we are trying to achieve. We want to add over $2 trillion more in economic activity and tens of millions of new jobs," Hockey added.
The G20 is setting a goal to increase investment, boost employment and promote competition in the mutual beneficial plan.
Another issue discussed during the meeting was cross-border taxation, according to the BBC. The ways of fleeing tax obligations in high-tax nations in favor of countries with lighter tax regimes have been causing a political fury in the US and the UK. Among the most discussed companies were Starbucks, Google, Apple and Amazon. The G20 is aiming to develop a set of common standards for sharing bank account information across borders, making financial operations more transparent. The automatic exchange of data among the member states is to be introduced by the end of 2015.
The G20 also said that it "deeply regrets" progress on granting emerging nations more say in the International Monetary Fund had slowed. Major emerging economies including India, China, Brazil and Russia have voted for giving themselves more power in the International Monetary Fund as their share of the world economy grows. But the changes agreed in 2010 and blocked by the US have still not been implemented.
"We deeply regret that the IMF quota and governance reforms agreed to in 2010 have not yet become effective", said the communiqué. "Our highest priority remains ratifying the 2010 reforms, and we urge the US to do so before our next meeting."
Each country is expected to prepare a detailed economic promotion strategy to present at the G20 November summit in Brisbane, Australia. The possible repercussions if targets are not met will be also discussed.
You can share this story on social media: