French elections bring down the markets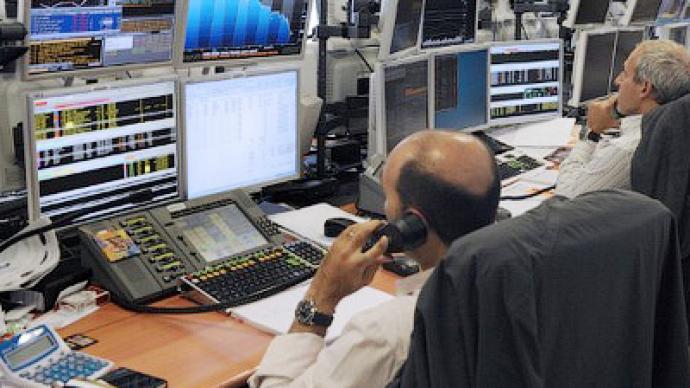 European markets crashed on Monday as Socialist candidate Francois Hollande beat President Nicolais Sarkozy in the first round of the French presidential election. A breakdown in Dutch government coalition also led the indices down.
The Stoxx Europe 600 gave up 1.75% and the French CAC 40 dropped 1.58% with Hollande's win. Hollande wants to renegotiate the euro-zone fiscal treaty, a German-led initiative designed to secure tougher budget cuts across the debt troubled region. He also promised to lower France's retirement age, which could worsen the country's budget deficit.Now Hollande and Sarkozy face a runoff on May, 6.Also Germany's DAX 30 was down 2.46% as investors fear a French President other than Sarkozy won't get along with German Chancellor Angela Merkel on handling the crisis. Their partnership was often referred as "Merkozy.""If Hollande becomes president it would be the biggest change so far," Roland Nash from Verno Capital told RT . "So far French less and Germans in particular pushed for austerity measures for this part of the world If Hollande becomes president it will be shift to less austerity more spending as a way out of the crisis." The political problems in the Netherlands are also contributed to the looming euro-zone turmoil as the Dutch government failed to agree on budget cuts at the weekend. After seven weeks of discussion on austerity measures the leader of right-wing Freedom Party (PVV) Geert Wilders walked out of talks on Saturday saying his party won't agree to EU demands, which would hit the elderly the hardest.The coalition breakdown makes elections in the Nethrlands almost unavoidable and puts into question its support for future euro zone measures.  Meanwhile in Spain stocks continued to fall amid renewed crisis concerns, with the IBEX 35 shedding 2.96% with banks among the worst performers. Yields on 10-year Spanish government bonds rose 4 basis points to 6.01%, slightly exceeding the psychologically important 6% level.The US investors are also anxious about the results of French election as Hollande's victory would increase risks for disagreement between euro-zone nations on fighting the crisis.
You can share this story on social media: