Foreigners eye Russian bread market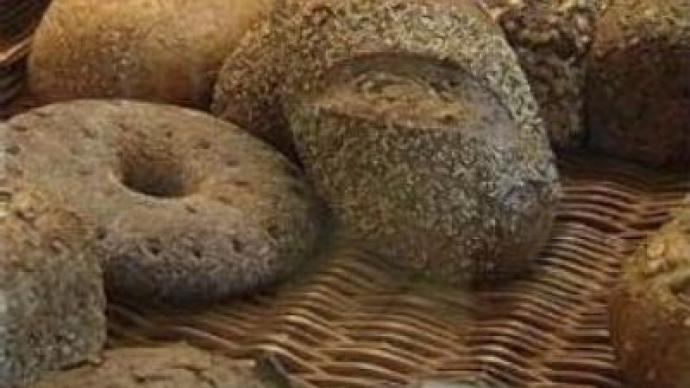 Backaldrin International GmbH, an Austrian manufacturer of bread ingredients, has opened an office and exhibition complex in Moscow. They're banking on it being the right time to enter Russia's bread industry, while there are still niches left.
Austrian House of Bread in Moscow is designed to be an exhibition and educational centre. It will showcase the world's top producers of baking equipment and promote Backaldrin's main product – bread ingredients. In addition, Austrians will teach Russian bakers how to make bread out of foreign ingredients using foreign equipment.
"Russians are eating less bread now – but that's a normal trend. It is because a lot of other products came onto the market. Our country also went through this. Bread companies just have to find their niche,"
said Peter Augedopler, the Head of Backaldrin Holding.Backaldrin knows that even though bread consumption is decreasing in Russia, the demand for more expensive breads from abroad is growing. Russian producers are trying to catch up."Bosko-L" bakes innovative types of bread which helped the company expand on the shelves of most Moscow's supermarkets. This one room Russian bakery produces up to 12 tones of bread a day, 60 types. Though Bosko-L calls itself "the most successful small bakery" – their profit runs at just 10%. Dozens of Moscow's bread baking factories are running at even lower rates of profitability – an average of 3%.Analysts say one of the main reasons is the state. Though the demand for bread has dropped, factories are still obliged to maintain what's called mobilization capacity – in case there's a war or other emergency. Also, bread is a social product – its price is kept artificially low so everyone can afford it.
"We see that imported breads from Finland and Germany are being sold in Russia at for a King's Ransom! Our producers also have to play by global rules. I think in Russia, bread should not be seen as a social product. Social issues should be a concern of the government. They have to care about people who cannot buy bread,"
explained Mikhail Kovalenko, the General Manager of Moskhleb, Moscow Bakeries Union.He says foreign bread companies moving into Russia were the first to realize that the perception of bread as a very cheap product will eventually change. Already, some imported bread costs as much as a bottle of wine or a kilo of exotic fruit. Industry experts, though, doubt its quality. Russian bakers envy its profitability. Analysts say that with further consolidation in the industry and growing competition between domestic and foreign players Russia's bakeries will soon become businesses.
You can share this story on social media: