Fitch downgrades Russia to BBB with a negative outlook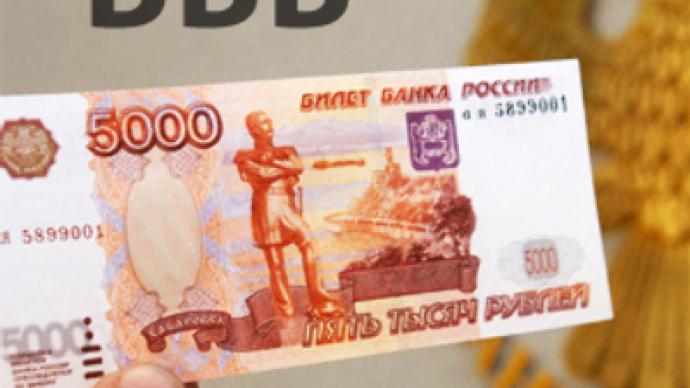 Fitch Ratings has downgraded Russia's debt rating to BBB for the first time since the 1998 crisis.
Fitch became the second of the major global ratings agencies to lower its outlook on Russian debt, following on the wake of Standard and Poors downgrade in early December.
A statement issued by Edward Parker, Fitch's head of emerging markets in Europe, noted that "The scale of capital outflows and the pace of decline in Russia's foreign exchange reserves have materially weakened the sovereign balance sheet," and adding that '"The downgrade reflects the negative impact on Russia from the fall in commodity prices and the dislocation to global capital markets that has left Russian banks and companies struggling to refinance external debt, and the difficulties Russia faces in managing the necessary macro-economic policy adjustments,"
The news, which will add to the borrowing costs of Russian companies in global capital markets comes after the Central Bank of Russia has managed a 29% Rouble devaluation, and which has been accompanied by a fall of more than $200 Billion in Russia's foreign reserves. The ratings downgrade referred to the difficulties facing Russia's need to manage the decline of the Rouble while supporting both the banking sector and the broader economy by noting "Monetary and exchange rate policy remains a challenge for the central bank in terms of whether to continue using foreign exchange to support the rouble, which would weaken the sovereign balance sheet, tighten domestic liquidity, which would adversely affect the banks, or revise its exchange rate policy, which would adversely affect its credibility."

At the same time Fitch has also downgraded the credit Ratings of major Russian companies and agencies, Russian Railways (RZD), Sukhoi, and RusHydro, while revising the outlook for Gazprom and Rosneft to negative.
You can share this story on social media: