Fitch ready to strip UK of exclusive AAA rating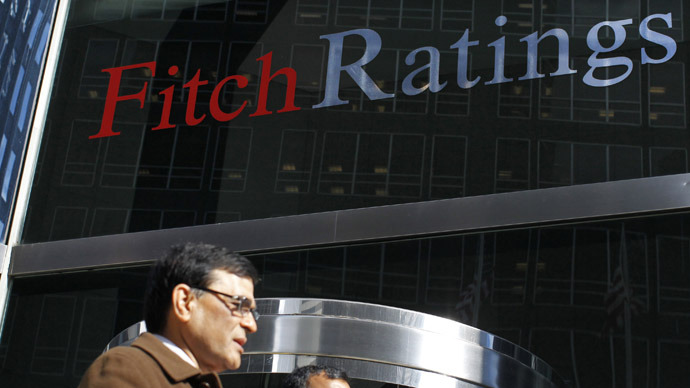 Shortly after Moody's Investor's Service downgraded the UK's coveted AAA credit rating, Fitch has put the country's economy on "rating watch negative", warning of a "heightened probability of a downgrade in the near term."
The measure is said to mirror "the latest economic and fiscal forecasts published by the Office for Budget Responsibility (OBR) that indicate that UK government debt will peak later and at a higher level than previously expected by Fitch," the agency explained in a statement.

Fitch is due to complete its full review by the end of April, taking a final decision over the downgrade.

"The persistently weak performance of UK growth, in part due to European growth, has increased uncertainty around the UK's potential output and longer-term trend rate of growth with significant implications for public finances," Fitch stated, adding however that the UK's creditworthiness "continued to be underpinned by its high-income, diversified and flexible economy - underscored by the rise in employment despite the tepid economic recovery - and the authorities' commitment to deficit reduction."

Fitch's warning turned out to be what many described as a "blow" to the government, given that the economic recovery was supposed to be its biggest concern; Chancellor of the Exchequer George Osborne had once promised to do his best to protect the UK's triple-A credit rating.

"Osborne's plan has catastrophically failed on growth, living standards and the deficit," Labour Finance Ministry Spokesman Chris Leslie said in a statement released by Reuters.

In February Moody's made waves when it expelled Britain from the privileged AAA exclusive club, which features Germany, Switzerland and Canada.

In December, Standard & Poor's cut its outlook on Britain's credit rating down to negative, warning that the UK could lose its AAA status if the country's economy weakened further, "beyond expectations."

According to the independent Office for Budget Responsibility, public debt is set to keep going up until 2016-17, peaking at 85.6 per cent of Britain's annual gross domestic product.

In the last three months of 2012 the UK economy shrank by 0.3 per cent. A number of analysts have predicted another reduction in the first quarter of 2013.

You can share this story on social media: