Storm alert for world economies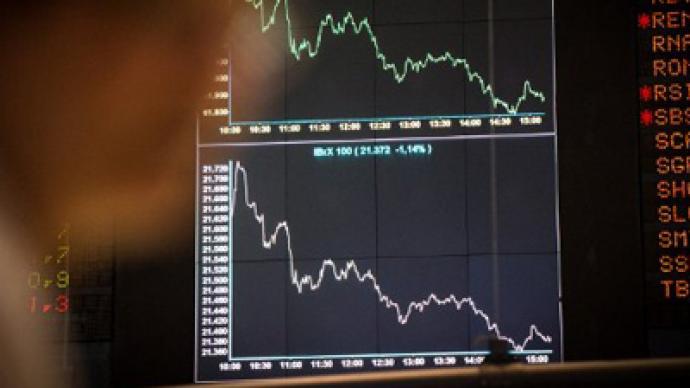 A perfect storm – such is the general economic forecast from leading global institutions and experts. The US recession and eurozone turmoil coupled with disruptions in the global corporate credit market are expected to stress-test the globe soon.
Nothing but a chain of financial shocks and break-ups lie ahead for Europe and the world's economic locomotive, the US, says "Dr. Doom" – professor Nouriel Roubini, who predicted the start of the current economic crisis.A military conflict in Iran, as well as a slowdown in emerging economies, especially in China, will fan the flames, Roubini added."You put it together — the eurozone troubles with the US slowdown, China…you could have a train wreck next year," he said.Greece will become the first to restructure and quit the eurozone, and countries with similar problems will follow suit, Roubini told CNBC, noting that Spain will become the next victim, losing market access by the end of 2012. Furthermore, in a "domino effect" the fiscal problems in Greece, Portugal and Spain will spread to the global economy, Dr. Doom warned.In the US, Dr. Doom expects the stock market to plunge further, with the Standard and Poor's 500 going down to 1,300 by the end of the year from its current standing of 1,357.99. Economic growth is likely to be fragile and isn't expected to go above 2% in 2012, the professor concluded.Global rating agency S&P echoes the gloomy sentiment, warning the global corporate credit market will be extremely fragile and may struggle for funds in the near future. While companies across the world plan to raise up to $46 trillion over the next 5 years, creditors seem to be stuck with their own financial issues.According to S&P, non-financial companies in the eurozone, the UK, the US, China and Japan will need money to fill in debt gaps in their books, as well as provide for growth. Meanwhile, "banks seek to restructure their balance sheets, and bond and equity investors reassess their risk-return thresholds," said Jayan Dhru, senior managing director of Global Corporate Ratings at S&P.The working assumption of S&P is that global creditors will by and large be able to finance the major needs of corporates, but downside risks remain."Existing or new sensitivities could flare up and derail our base case," Dhru said.
You can share this story on social media: