Soros cashes out of major US banks in favor of Facebook
Published time: 15 Aug, 2012 12:44
Edited time: 15 Aug, 2012 16:44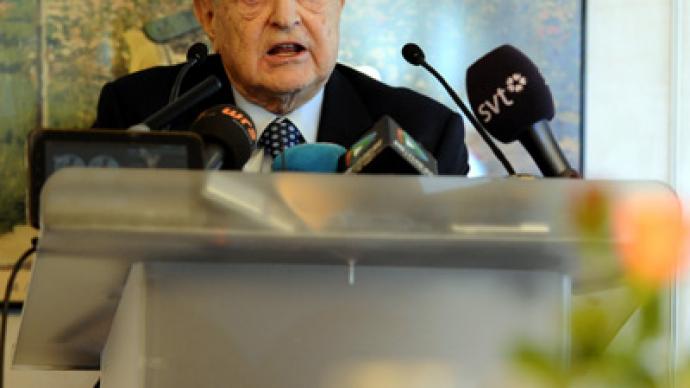 Soros Fund Management LLC, owned by billionaire investor George Soros, has cashed out of most of his financial holdings during the second quarter and acquired new stakes in retail heavyweight Wal-Mart Stores Inc. and Facebook instead.
­The billionaire decided to eliminate his positions at J.P. Morgan, Goldman Sachs and Citigroup banks in the second quarter but kept his stake in SunTrust Banks.
Instead he added 4.8 million shares in the world's largest retailer Wal-Mart , valued at $337 million.

The hedge fund manager also purchased 341,000 shares worth $10.6 million of social network company Facebook.

Facebook finished the second quarter, which ended June 30, at $30 a share. Since then stocks have fallen 34% on concerns over the company's revenue growth. It means Soros has lost nearly $3 million.

The billionaire also boosted his holdings in precious metals, raising his stake in the SPDR Gold Trust to 884,400 shares, from 319,550 shares.

Soros used to own 606,400 shares of J.P. Morgan, 120,000 shares of Goldman Sachs, 537,000 shares of Wells Fargo and 420,000 shares of Citigroup at the end of the first quarter.

Overall, the value of Soros's holdings has risen nearly $6.9 billion, from $6.8 billion in the first quarter.

Among other purchases, the billionaire boosted his stake in US conglomerate General Electric. He now owns 8.6 million shares with the stake valued at $179 million.