Eye-catching marketing gives Euroset the edge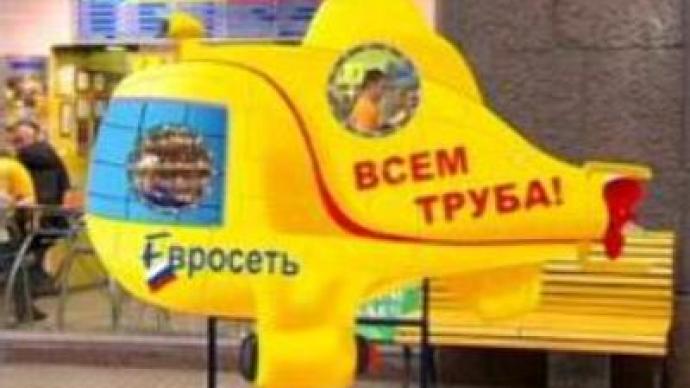 The aggressive marketing strategy of Russia's largest mobile phone retailer, Euroset, is about to become the subject of a bitter courtroom fight. But experts say despite legal complications, it has proven most effective.
Eccentric paintings, a bronze sculpture that signals the victory of intellect over brute force and a drum kit are just some of the eccentric details Evgeny Chichvarkin, the head of Russia's largest mobile phones retailer Euroset, surrounds himself with in the company's head office.His love for the fascinating and the absurd spills into Euroset's jaw-dropping approach to marketing. One can sometimes win a prize for taking your clothes off in its stores.Its annual report to shareholders looks plain goofy, like a child's scrapbook. And marketing slogans play on swear words – something Euroset is being sued for in several Russian regions.But it looks like the self-appointed bad boy of Russian business has found a formula for success. Over the past decade, his company has mushroomed from a small kiosk in Moscow to the largest mobile phone retailer not only in Russia, but in all of Eastern Europe. As of last year, it had almost 42% of Russia's mobile-phone market with more than 5,000 stores in over a thousand cities of Russia, the CIS and the Baltic countries. Over 40 million people visit the company's stores every month. As a result, Euroset's turnover last year jumped 80% to $US 4.6 BLN.Analysts say as controversial as Euroset's strategy may be, it proves effective.
"The people want more emotional brands rather then technological or conservative ones. Of course, it should not be too aggressive in taking the market and finding its way to the customers, but this marketing strategy is quite successful,"
believes Yury Pukha, A.T. Kearny analyst.Mr Chichvarkin said Euroset recently launched a Virtual Mobile Network, plans to buy a bank to develop its own consumer crediting, and is studying the possibility of opening retail outlets in India. Mr Chichvarkin's ambitions for Euroset also include taking the company public next year.
You can share this story on social media: