Evraz posts FY 2008 Net Profit of $1.86 billion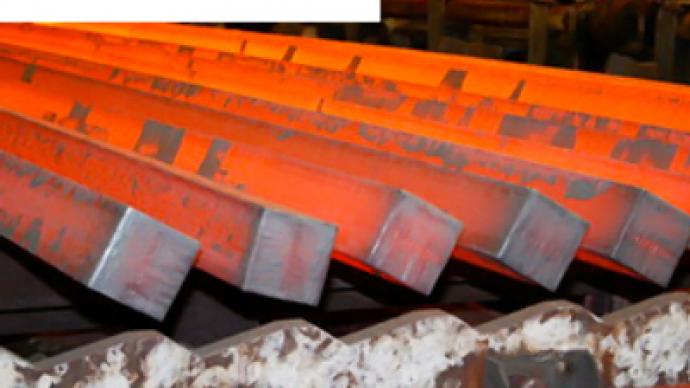 Russia based steelmaker, Evraz, has posted a FY 2008 Net Profit of $1.86 billion under IFRS.
The bottom line was down 11.2% on the $2.1 billion Net Profit posted for FY 2007, despite adjusted EBITDA rising 46.9% to $6.23 billion, on a 58% increase in Revenues to $20.38 billion.
The company attributed the fall inn Net Profit to the $1.85 billion worth of write downs and one off charges. These included impairment losses on Ukrainian assets, Claymont Steel in the U.S., and obsolete Russian plant. The company also incurred foreign exchange losses due to the slide of the Russian Rouble and the currencies of South Africa, Canada and Euro against the U.S. dollar.
Despite this the company noted a sharp increase in Vanadium revenues to $1.2 billion for the year, with steel sales also increasing on the back of Evraz's new acquisitions in Canada, South Africa and Ukraine as global steel prices surged in the first half of the year.
The onset of a market slowdown in 4Q 2008 saw the company implement an extensive programme of cost reductions, capital improvements and capital preservation measures with CEO Alexander Frolov, noting managements focus on efficiency gains and deleveraging.
"In order to improve our efficiency we need to get rid of our non-core activities and reduce our labour costs. We are focusing on the optimisation of our production capacities and the discontinuation of cost inefficient operations that lack a competitive edge on a global scale. We have set aggressive cost reduction targets, including cuts of as much as 50% in certain cost lines compared with 2008 levels.

We have also decreased our capital expenditure to effective maintenance levels and planned investment in 2009 is not expected to exceed US$500 million. Our prudent management of working capital continued, as illustrated by the reduction from a 16% proportion of revenues in 2007 to 10% in 2008, despite the challenging market environment in the fourth quarter. We currently plan to reduce our working capital by US$700 million in 2009."
Frolov added that he expected 2009 to continue to provide a difficult operating environment, but that Evraz was well placed to work through the downturn and continue growing in the longer term as the market rebounded.
"Few can doubt that 2009 is going to prove a difficult year for the global steel industry and for Evraz as one of the sector's key players. However we strongly believe that the combination of asset composition, a high degree of vertical integration and our geographic diversification, together with our experienced international management team, will ensure that we not only overcome the challenges but enter a new growth era with enhanced competitive credentials."
You can share this story on social media: