Eurozone private sector May performance worst in 3 years
Published time: 24 May, 2012 13:02
Edited time: 24 May, 2012 17:08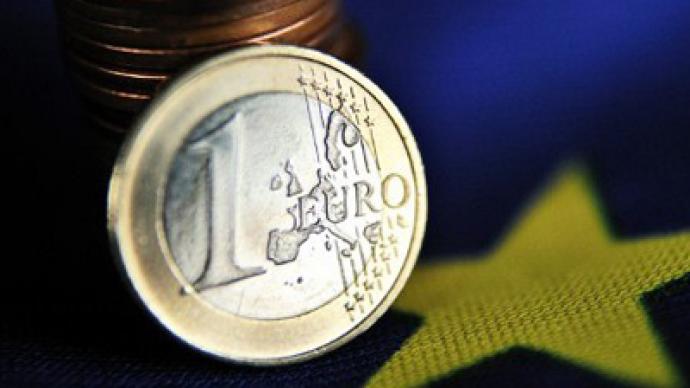 The eurozone is getting deeper into the doldrums, as its private sectors contracted the most sharply in May since mid-2009, according to a Thursday report by Markit. Shrinking demand for new orders was the first factor to blame.
A guide to economic growth in the eurozone – the composite Purchasing Manager Index (PMI) compiled by Markit – says the region's private sector contracted for the 4th consecutive month in May. A preliminary "flash" reading was down to 45.9 from April's figure of 46.7, which was the lowest since June 2009.
A preliminary PMI is based on responses by 85% to 90% of companies surveyed for the full index, which is released about a month later. A reading above 50 signals growth of activity compared with the previous month, while a figure below 50 points to contraction.
Both business activity and new orders fell the steepest in three years this May, with output contracting eight-fold during the last nine months, the report says.
Falling demand proved to be a double-edged sword. While weakening inflation, it also pressed companies' profits and therefore leads to massive job cuts. The rate of job losses kept on growing for the 5th consecutive month in May to reach the highest level since the start of 2010. In March the eurozone unemployment rate hit 10.9%, equaling a record high of 15 years ago, with a poll conducted by Reuters talking about a further increase to 11.4% at some point in late 2012 or early 2013.
PMI May data was in line with the basic economic trend in the region, as the eurozone GDP was down at least 0.5% in 2Q 2012, according to Chris Williamson, Chief Economist at Markit.
Decline in the eurozone key driving economies – Germany and France – came as the most worrisome news.
"France is seeing the steepest deterioration in business conditions for three years, with the survey pointing to a marked fall in GDP in the second quarter of at least 0.5%. However, even Germany is at risk of GDP falling slightly in the second quarter if the situation continues to deteriorate in June,"
says Chris Williamson, Chief Economist at Markit.
In Asia, a "flash" China Manufacturing PMI survey also pointed to a continued contraction in May, with the reading falling to 48.7 points from April's 49.3 on a 100-point scale.
A fall in exports, which are a cash cow for a country's economy, was the main reason, according to Hongbin Qu, Chief Economist, China & Co-Head of Asian Economic Research at HSBC. Easing its monetary policy and stabilizing growth is the key for a soft landing in China, Mr. Qu added.
China's Cabinet promised Wednesday to step up efforts to boost growth after the economy expanded 8.1% in the first quarter, the least in almost three years.