Encouraging PMI data heralds European manufacturing revival
Published time: 3 Jun, 2013 12:16
Edited time: 3 Jun, 2013 12:18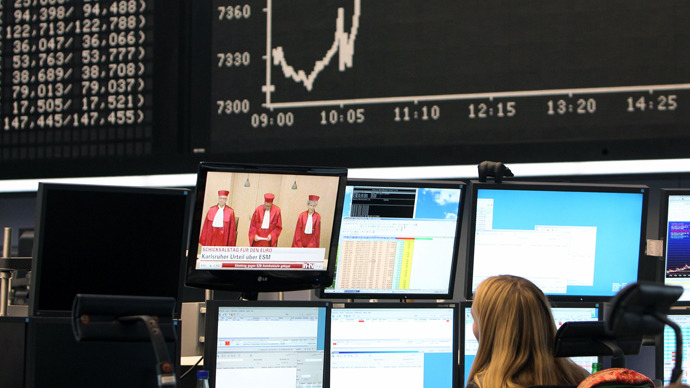 Eurozone manufacturing output shrank less than initially estimated in May, proving its economy is beginning to show some life. The data supports the optimism of ECB chief Draghi predicting 'gradual recovery' for the Eurozone.
The Purchasing Managers' Index compiled by Markit is a  key benchmark indicators for measuring the business and economic conditions. Readings above 50 indicate expansion, and below contraction.
A gauge of manufacturing in the euro area increased to 48.3 last month from 46.7 in April, Markit reports. It means European manufacturing output is still falling, but at the slowest rate since February 2012.  EU biggest countries such as Spain, Italy, France, Germany, and Greece saw increases.
Germany 49.4:       3-month high





Netherlands 48.7:  3-month high





Austria 48.2:          3-month high





Spain 48.1:          24-month high





France 46.4:        13-month high





Italy 47.3:              4-month high





Greece 45.3:       24-month high
"The sector still seems some way off stabilizing, however, and therefore remains a drag on the economy", Chris Williamson, chief economist at Markit, reports.
"In particular, the surveys brought good news in terms of signs of stabilisation in Germany and export-led growth in Italy and Spain, the latter suggesting structural reforms are boosting competitiveness", he adds.
The PMI report has added to encouraging euro-zone industrial confidence and trade data released last month that showed the currency bloc is beginning to emerge from a record-long recession. Bloomberg reports. The 18-month recession will end in the second quarter, as the economy stagnates before returning to growth in the following three months, according to the agency.
However, even though the Eurozone PMI holds steady versus initial estimates, the state of Europe's economy remains in a "dire situation," tradingfloor.com quotes the chief economist of OECD Pier Carlo Padoan. "We think that the Eurozone could consider more aggressive options, including below-zero interest rates", the think tank suggests.
The European Central Bank has cut its benchmark rate to a record low of 0.5 percent and is exploring unconventional ways of channeling money to needy companies, especially in the south, Bloomberg reports. 
"The economic situation in the euro area remains challenging but there are a few signs of possible stabilization," ECB President Mario Draghi is reported saying. "Our baseline scenario continues to be one of a very gradual recovery starting in the latter part of this year", he adds.