Eurogroup: More time, but no money for Greece
Published time: 13 Nov, 2012 11:18
Edited time: 13 Nov, 2012 15:18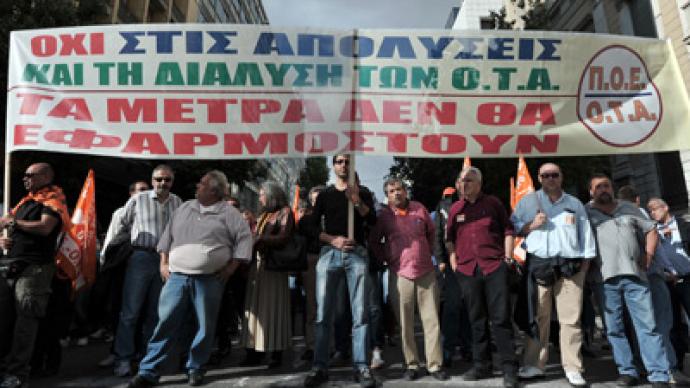 Though European finance ministers gave Greece two more years until 2016 to curb its budget deficit, they failed to agree on how to provide Athens the next tranche of the financial aid so the country can pay its bills.
The debt-troubled country is set to reduce its deficit to 2% by 2016 from 6.5% this year – one of the conditions of its bailout package.
"Today a huge step has been made in order to secure the program on Greece, in order to enhance the confidence in the eurozone, in order to find a strong and definite solution for this question, which has lasted for more than two years now," French Finance Minister Pierre Moscovici said at the meeting in Brussels. "We couldn't do more today."
But European officials could not agree on terms when the country's debts would reach a manageable level. IMF chief Christine Lagarde insisted that Greece should still be aiming to bring its debts from around 190% next year to the 120% of GDP level by 2020 as initially targeted. But Chairman of the Eurogroup Jean-Claude Juncker urged to change the deadline for 2022.
"In our view the appropriate timetable is 120% by 2020," Lagarde said. "We clearly have different views. What matters at the end of the day is the sustainability of Greek debt so that country can be back on its feet."

However, the European officials refused to unlock the next 31.5-billion-euro tranche of financial aid. Juncker a "definite decision" will be made at a special Eurogroup meeting on November 20, pointing out they expect the results of debt analysis on Greece. Last week the Greek parliament adopted a budget for 2013 that involves 9.4 billion euro of spending cuts, in effort to secure the desperately needed tranche.
On Friday the country must repay 5 billion euro of maturing short-term bonds held by the European Central Bank, but without its next 31-billion-euro tranche it's not clear how this issue will be fixed. The government has already said it will run out of cash on Friday, if it doesn't get the bailout money.
However, the measures the Greek government is taking are only making the country's debt situation worse, according to John Laughland, director of studies at the Institute of Democracy and Cooperation. "The debt ratio in Greece is predicted to be 190 per cent of GDP by next year, that's much higher than when the first bailout plan was agreed," Laughland told RT.

"The [Greek] economy is in a free fall, it's been in a free fall for over a year. The fact is that the Greek political class like the rest of the European political class is in a sense a prisoner of European ideology, and this ideology exerts such a power over people that they are prepared to do things which by any rational measure are obviously counterproductive in order to preserve the European project, the euro in particular," he continued. 
Laughland believes European governments "are determined to do everything to keep the single currency intact even to destroy their own country."

"Many other countries have found themselves in this position before – Russia, Argentina, and what they did was to devalue and default. And economic history shows that that works. The reason why it's not being adopted is because of this attachment to this European ideology,
" Laughland added.