Eurozone may lose 4.5mln jobs if no reform
Published time: 11 Jul, 2012 09:47
Edited time: 11 Jul, 2012 17:31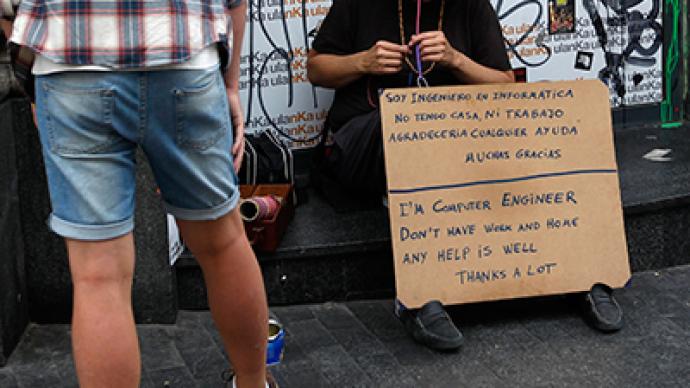 Four and a half million people could find themselves without a job in the eurozone over the next four years if it fails to carry out reforms on time, the International Labor Organisation (ILO) said in its latest report.
That rise would take unemployment in the 17-nation bloc to 22 million. Employment in the eurozone area remains 3.5 million lower than before the crisis, the report said.
The ILO said a concerted policy shift away from austerity towards job creation was needed, warning that high unemployment would risk feeding further social unrest and eroding citizen's confidence in national governments and the financial system.
The report said that by embracing a eurozone growth strategy with jobs at its core, a recovery is still possible within a single-currency setting.
"It's not only the eurozone that's in trouble, the entire global economy is at risk of contagion," it said. 
The unemployment rate in the eurozone hit 11.1% in May, according to official figures from Eurostat. 
The number of jobless has risen to 17.56 million, the highest level since records began in 1995. Most job losses are registered in southern Europe, while Austria, Belgium, Germany, Luxembourg and Malta have enjoyed better employment since 2008.
In Spain, which has the highest unemployment rate in the eurozone, one in four people is now out of work.
The youth unemployment rate in the eurozone stood at 22.6% in May, meaning 3.4 million people under the age of 25 were jobless.
Recommended policies include repairing the financial system, promoting productive investment, reinforcing effective employment programmes, maintaining social protection, fostering social dialogue and undertaking job-friendly fiscal plans.