EU freezes assets of Yanukovich and 17 other Ukranians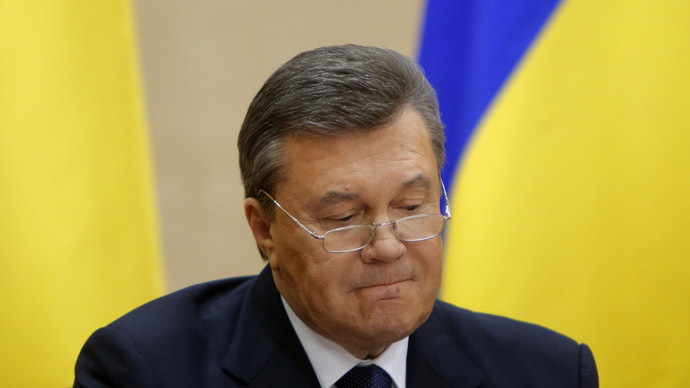 The European Union has frozen the assets of 18 Ukrainians held responsible for embezzling the country's funds, and illegally sending them abroad. Ousted President Viktor Yanukovich tops the list.
The foreign ministers of 28 EU member states agreed to impose sanctions from March 6, against leading Ukrainian officials responsible for the "misappropriation" of Ukrainian state funds, the official statement said.
The list also includes the two sons of the former President - Oleksandr and Viktor Yanukovich, former Prime Minister Mykola Azarov and his son Oleksii, as well as a former Minister of Internal Affairs Vitalii Zakharchenko.
All the 18 people listed are subject to "criminal proceedings in Ukraine in connection with the embezzlement of Ukrainian State funds and their illegal transfer outside Ukraine," according to the document.
The European assets of the targeted Ukrainian officials will be frozen for the next 12 months, but they can be recovered if "certain conditions are met," the document added.
The document was published hours ahead of the EU emergency summit in response to the crisis in Crimea.
"This is the first time in many years that we have the perception in Europe of a real threat to our stability and even to peace in this continent," European Commission President Jose Manuel Barroso said ahead of the summit.
On Wednesday, the EU offered Ukraine 11 billion euro ($15.1 billion) in loans, on a condition Kiev signs a deal with the International Monetary Fund (IMF).
Accepting IMF money normally means many sacrifices for a country's economy, which could result in high gas bills in Ukraine, frozen government salaries, and all around budget cuts.
In late February the Swiss Financial regulator FINMA froze the assets of Yanukovich, his son Oleksander, and 18 other Ukrainians.
You can share this story on social media: