'Up to 146 million risk poverty if EU's austerity drags on'
As EU countries battle the financial crisis with austerity, average citizens get hurt while unemployment rises and social programs disappear. Up to 146 million Europeans are at risk of falling into poverty by 2025, the head of Oxfam's EU office told RT.
If the damage being inflicted by the European Union's austerity measures is not reversed, the number of people trapped in poverty will increase by up to 25 million people. If that is the case, Europe will be facing a "lost decade," leading philanthropy organization Oxfam revealed in its new report.
"It's really what's at stake if austerity measures drag on as they are now. This is the projection, which we found out in this report about the true costs of austerity and inequality in Europe and definitely it's a massive amount of people falling into poverty, but at the same time people like to highlight that some very few people, the 10 percent richest, will be getting richer. So it's basically inequality - which is going to be increasing - and the level of poverty, which is also going to be increasing," Natalia Alonso told RT.
The 29-page report, titled 'A Cautionary Tale: The true cost of austerity and inequality in Europe,' argues that the European model is under attack from ill-conceived austerity measures.
"Left unchecked, these measures will undermine Europe's social gains, creating divided countries and a divided continent, and entrenching poverty for a generation," states the report.  
The report argues that the austerity measures being implemented in the EU are similar to the devastating ones used by the International Monetary Fund (IMF) over the past 25 years on poor countries – a scheme known as "structural adjustment" programs.
"These policies were a failure: a medicine that sought to cure the disease by killing the patient. They cannot be allowed to happen again…Some countries in these regions took two decades to claw their way back to square one," the report states.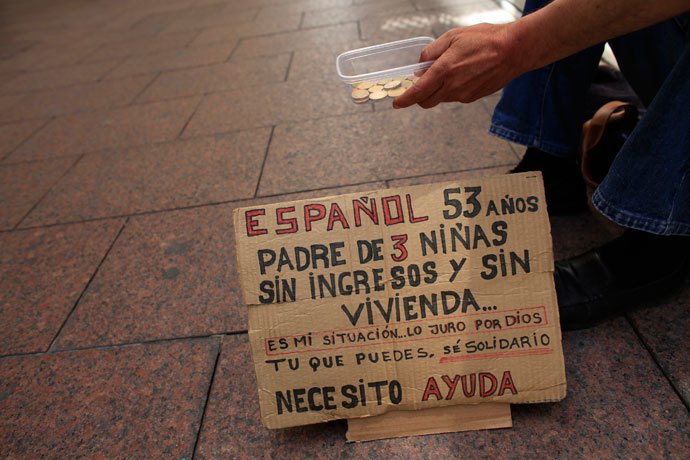 According to Alonso, "austerity is not really working. The growth that we have seen, it's very welcome. It's really needed. But it's really affecting the people who are most in need."
She added that austerity has destroyed social protection systems that were been put in place for those who were suffering the most.
"So people are hit twice. First because, for example, they lose their employment. And the second time because any kind of social protection system that was in place to protect them is disappearing," Alonso said.
Oxfam warns that it could take up to 25 years for Europe to return back to the living standards of five years ago.
"The only people benefiting from austerity are the richest 10 percent of f Europeans who alone have seen their wealth rise. Greece, Ireland, Italy, Portugal, Spain, and the UK – countries that are most aggressively pursuing austerity measures - will soon rank amongst the most unequal in the world if their leaders don't change course. For example, the gap between rich and poor in the UK and Spain could become the same as in South Sudan or Paraguay," Alonso said.
The solution to the problem is finding an alternative to austerity, suggests the report. It recommended that governments adopt a progressive tax system which would place higher taxes on the wealthy while also targeting tax dodgers. 
"Governments could raise billions for public services, such as health and education, by taxing the wealthiest and cracking down on tax dodging."
Other recommendations include addressing inequality directly. "Inequality hurts economic growth, creates a lot of social tension, and doesn't foster good economic growth," Alonso said.
The report calls on EU governments to invest in employment and decent working conditions, as well as in the future of education, health, and social protection systems.
You can share this story on social media: