EU to examine five Greek bailed-out banks
Published time: 27 Jul, 2012 11:52
Edited time: 27 Jul, 2012 15:52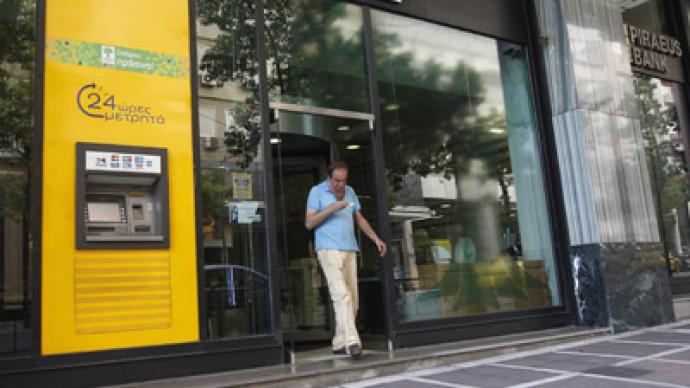 The European Commission temporarily approved 18 billion euro in state aid to four of Greece's largest banks, but say they would investigate if the aid was in line with EU rules.
The financial aid to the National Bank of Greece, Alphabank, EFG Eurobank and Bank of Piraeus was provided by the Hellenic Financial Stability Fund. The Commission revealed on Friday it had approved the aid for six months and now waits for the Greek authorities to present details of the banks' recapitalization.
"Their participation in the Greek government bond exchange and the deep recession has weakened their capital. The bridge recapitalization by the HFSF ensures the stability of the Greek banking system," EU Antitrust Commissioner Joaquin Almunia said in a statement.
Almunia stressed the aid was approved at a time when Greek banks were working "under extreme conditions."  However the EU watchdog is going to investigate whether the bailout would give these banks an unfair advantage.
The EU regulator also cleared 1.7 billion euro to wind down Proton Bank. It will now consider the restructuring plan to create a new group from the assets of that bank.