Easter shoppers hit by egg-streme price hikes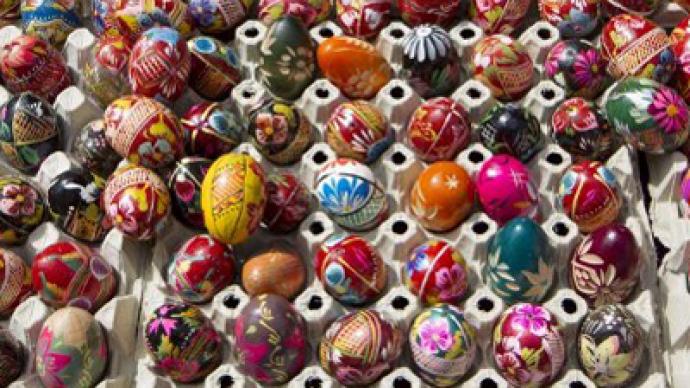 Europe is in the grip of the usual Easter craze as eggs become the focus of everyone's attention. However this year's egg fever is like no other before. Eggs – be they normal or chocolate – have seen an unprecedented rise in price.
There's nothing unusual in egg prices soaring at Easter. However, this year eggs are almost 80% (76.5) more expensive than last season, according to the Wall Street Journal. Supply is failing to meet demand as many producers have simply halted their egg production. It all has to do with new European Union rules requiring larger cages for battery hens. European Union member states were given until the beginning of this year to switch from using small cages to new ones with more space, bedding and perches. As a result, there are fewer eggs on the market. While some producers are in the middle of upgrading their facilities, others have simply chosen to leave the business rather than pay for the luxurious comfort of their hens. Eastern European countries have suffered the most. Many customers in poorer economies think the regulation has taken fighting for the animal rights a tad far. There are those who now go across borders to build up their stocks of eggs for Easter – for example in Poland the price is 40% less than in neighboring countries. So going abroad to buy several hundred eggs for a family is nothing out of the ordinary these days. However, egg-hunting across borders doesn't solve the problem of chocolate eggs, which are another Easter essential. These too have become more expensive almost everywhere. For example, in Great Britain chocolate treats have become almost 200% more expensive than last year, according to the Daily Mail. And there are fears they could go cost even more by next Easter due to a global cocoa bean shortage after a drought in the Ivory Coast, which is responsible for 40% of the world's supply. In the meantime, cocoa bean prices continue to fall. Cocoa producers blame droughts forn poor quality beans, with buyers complaining beans are too small, black and contain no chocolate. The confectionery giants and supermarkets have found a way out of the chocolate crisis: excessive packaging. A recent report by a LibDem MP in the UK found only 38% of the contents of an Easter egg box is an egg. Some of the more frugal customers already say it's not worth it – and suggest buying a DVD with a good movie or a cartoon for kids to last for years, instead of a chocolate egg that won't last at all. But there are of course those who won't give up the chocolate pleasure – no matter the price.
You can share this story on social media: