Cyprus toughens capital controls, steps up security ahead of banks reopening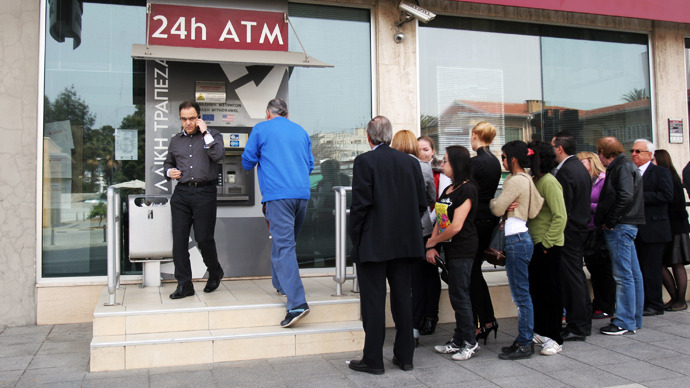 Cyprus bank controls limit capital outflow as national banks are due to reopen on Thursday. Meanwhile the Cypriot parliament is investigating suspicious transactions, when large sums were moved out of the country's banks on the eve of the bailout package.
Cyprus bank controls impose restrictions on foreign transactions and capital outflow to prevent money draining out of Cyprus, as banks are due to reopen on Thursday, the head of the Cyprus chamber of commerce said on Wednesday after meeting government officials.
"We have been assured that limitations will not affect transactions within Cyprus at all," Phidias Pelides told reporters. "Where there will be limitations is on what we spend abroad and also on capital outflows," he said.
Capital controls will last seven days, but many note restrictions are written with longer-term applications in mind.
Meanwhile, there are discussion to raise the daily withdrawal limit €100 to €300, while payroll payments will be allowed in order to help businesses.
As the island readies for the reopening of its banks after they have been closed for two weeks, security measures are being stepped up to avoid unrest. Private security firm G4S will dispatch 180 of its staff to all bank branches across the island to keep a lid on any possible trouble,  John Argyrou, managing director of the firm's Cypriot arm told Washington Post.
"Our presence there will be for the comfort of both bank staff and clients, but police will also be present," he said.
Another 120 staff from G4S would be assigned money transportation duties, Argyrou added.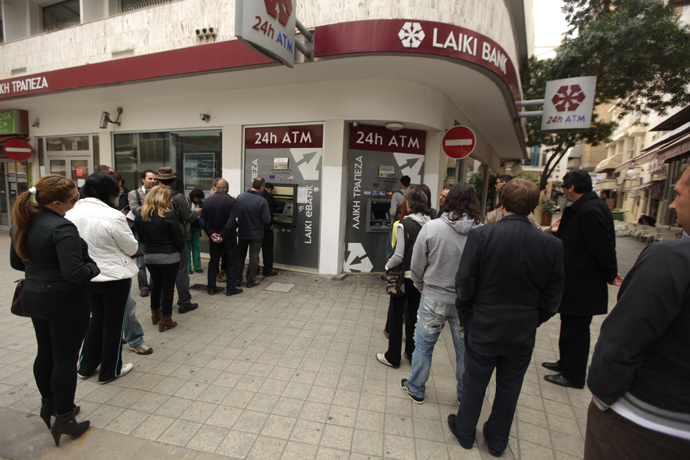 Suspicious transactions
Meanwhile it came to light, that large amounts of money were pulled away from accounts in two major Cypriot banks just before the first bailout package was signed on early March 16, Spiegel Online reports Wednesday. Records show at the end of January around 40% of all savings were on accounts, but much of it has been moved elsewhere since then. The transactions were carried out despite orders from the central bank to freeze all accounts in the islands' two biggest financial institutions. Only humanitarian aid transfers were permitted, which allegedly opened a loophole for the money to leak out. So-called "special payments" were also allowed, but the clear definition for such operations was never delivered. 
The Cypriot central bank is now accused of failing to accurately monitor capital movement. The central bank has defended itself saying much of the money was pulled from overseas and it is powerless in controlling money withdrawal from some bank branches and subsidiaries, many of which are located in non-eurozone countries like Russia and Britain and do not fall under European Central Bank rulings.
The parliament surmises central bank employees or members of the government could have been notified beforehand and were able to rescue their wealth before the storm. Lawmakers are now demanding the central bank compile a list of the accountholders, from whose accounts large amounts were moved immediately before the levy on savings was announced.

You can share this story on social media: