Cyprus: Russia is more generous than the IMF
Published time: 5 Jul, 2012 08:44
Edited time: 5 Jul, 2012 12:44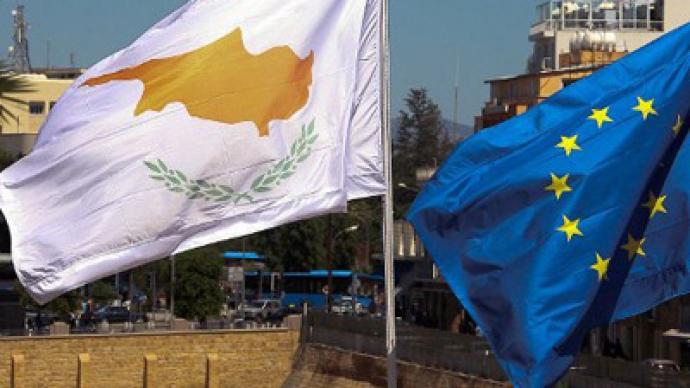 Russia is offering Cyprus more favourable conditions than the EU and IMF as the island country seeks aid for its ailing banks says President Demetris Christofias.
­The Cypriot President told the European Parliament that "the conditions offered by Russia are more favourable" because it does not "impose any conditions" and offers "a lower interest rate." 
Cyprus is the fifth of the 17 euro zone countries to seek rescue funds. The Bank of Cyprus as well as Cyprus Popular Bank suffered massive losses linked to their holdings of Greek bonds.
Aid from the EU and International Monetary Fund comes with strict conditions on economic policy as has been the case in Greece, Ireland and Portugal which have all needed bailouts while Spain is seeking help for its banks.
Officials from the European Commission, the European Central Bank and the IMF arrived in Cyprus on Tuesday to look into its request for financial aid. The government has not said how much it is seeking but local media speculated it would need around 10 billion euros ($12.5 billion).
According to a Cypriot diplomatic source, the island is also conducting talks with Russia, from which it secured a low-interest €2.5 billion loan last year to cover refinancing needs for 2012. Many Russian banks and businessmen keep funds in Cypriot banks.
However, Russia is so far denying reports it has received any money requests from Nicosia.
A number of European officials called on Christofias to push through EU reforms, however the President retaliated that "strict austerity policies implemented in reaction to the crisis not only did not resolve the problems but they worsened them."
The finance ministry in Nicosia has also said that the low corporate income tax rate will not be up for discussion. At 10 percent, Cyprus has one of lowest corporate tax rates in Europe which it sees as vital to attracting foreign investment.
"Cyprus will fight to keep this system in place, our survival depends on it," said Christofias. Raising the tax to 15 percent would immediately lead to a flight of businesses to neighbouring countries, he added.