Cyprus may need a bailout equal to half of its economy – officials
Published time: 26 Jun, 2012 10:47
Edited time: 26 Jun, 2012 18:02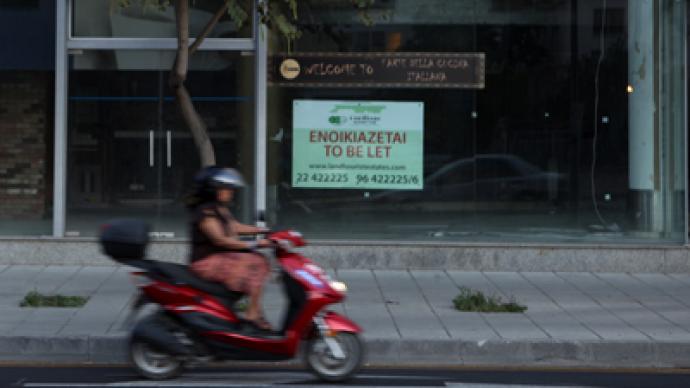 Cyprus may need up to 10 billion euros, over half the size of its economy, to fix its finances, some European say, after the country has officially requested aid from the EU.
"The exact number has not been decided yet. It was to be 6 billion for the state financing and 2 billion for the banks but that is optimistic – it is more likely to be seven and three – up to 10 billion euros in total," one euro zone official told Reuters.
Ratings agencies downgraded Cyprus, the eurozone's third smallest economy, to junk status on Monday, pointing out the country will need as much as €4 billion to recapitalize its banking sector.
Meanwhile the Cypriot government hasn't revealed how much Cyprus would ask for, saying the amount is subject to negotiations. The 27 EU leaders are going to discuss it at the meeting in Brussels on Thursday and Friday.
The island has become the fifth eurozone country after Greece, Ireland, Portugal and Spain, to formally ask for international financial help. The request comes just days before a deadline to recapitalize one of the country's major banks.
On Monday Spain formally asked for financial help of €100 billion to support it troubled banking sector.
Cypriot Finance Minister Vassos Chiarly said recently he would prefer eurozone assistance to aid from Russia, which has already given Cyprus a €2.5 billion loan.
Cyprus has been excluded from the international capital markets for more than a year as yields on its 10 year benchmark bond were over 16% on Tuesday.