Construction fraud victims seek protection from government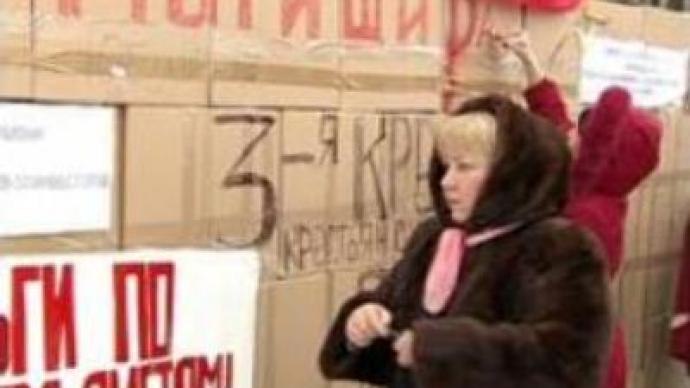 Around 400 victims of fraud have gathered to protest in the centre of Moscow. They invested money in a housing scheme in cities around Russia but have not received apartments promised by the contractors.
The demonstrators in Moscow's Bolotskaya square say they've been deceived by the Moscow-based company Social Initiative. Two years ago the company held a massive advertising campaign, and collected money from locals with the promise to build 50 housing complexes. But construction work was soon abandoned.Now, protesters say Social Initiative denies any wrong-doing.
"The company says it didn't receive money from us, investors. And now no one is doing anything and we have no opportunity to defend our rights. We can't persuade them that we gave them money to build the flats,"
says Olga Dudukina, a protester.Most of the protesters say they spent all their savings on the contract for a dream apartment. Some say they took out loans and have now accumulated a massive debt. The angry protesters say all they want is their flat or their money back. They're calling on the government to solve the issue. But so far, they say no one is listening to their cause and the government is turning a blind eye.
"We demand that the government adopts a resolution that will guarantee people get their flats, or their money returned. Unfortunately, during the last year, the government has been concentrating on helping people in other countries and doesn't want to solve the problems of its own people,"
claims Sergei Korolov, protest organiser.Demonstrators constructed a make-shift wall, saying it represents the wall the government has erected between itself and the victims. Meanwhile Social Initiative is still in business; though it has changed its name to Reasonable Housing. According to the protest organisers, the company conned more than 100,000 victims, with total investments in the false construction schemes amounting to $US 513 MLN.
You can share this story on social media: