Concerted global action to underpin global finances: RTS and Micex halted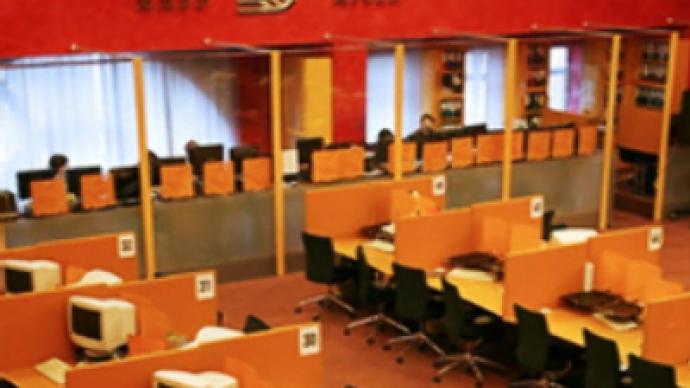 Russia's RTS and Micex exchanges halted Wednesday trade at 11.00 Moscow time after a frenzied 30 minute sell off, before global central banks unveiled the first coordinated response to the calamity engulfing financial markets worldwide.
The U.S. Federal Reserve, the ECB, the Bank of England, The Bank of Canada, the Sveriges Riksbank of Sweden, the National Bank of Switzerland and the Central Bank of the United Arab Emirates have all cut their key lending rates by 500 basis points, or half a percent. In a further development the Peoples Bank of China has cut its major lending rate by 0.27%.
The moves come in the wake of repeated sell offs engulfing the world major equities markets. In the U.S. on Tuesday night, the Dow closed down a further 5%. The selling flowed through to Asian trade on Wednesday where the Nikkei closed 9.4% lower, with Hong Kong 8% down, and Sydney, Seoul, Singapore and Shanghai all suffering major falls.
In Moscow the RTS and Micex opened sharply lower, and were closed within half an hour with the RTS down 11% and the Micex down 14%. Virtually all major stocks experienced double digit falls. Trading halted at 11.00 Moscow time, with the Micex closed until October 10, and the RTS closed until further notice.
European bourses opened lower with the FTSE 100, Dax and CaC down, despite the British government unveiling a £500 Billion ($880 Billion) package to underpin the British banking system. This will see the British Government outlay £50 Billion and gain preference shares in major financial institutions. It is also adding a further £200 Billion in short term liquidity to the banking system in a further attempt unlock seized credit markets, with a further £250 Billion to underwrite short term lending between banks. In lunchtime trade after the announcement of the actions by the British Government, and the concerted action by Central Banks, European markets remained lower, with the FTSE, Dax and CaC all more than 3% lower at 17.00 Moscow time. U.S . futures initially moved higher on the action, before sliding again on the release of disappointing retail sales data for September.
You can share this story on social media: