Surfing the commodities super spike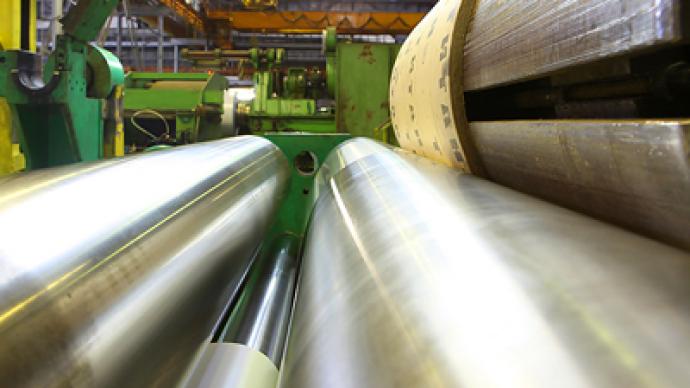 With booming commodity prices buoying Russian markets as crude, many metals, and soft commodities setting long term records Business RT spoke with Ole Slot Hansen, Senior Manager of the Trading Advisory Team, at Saxo Bank about prices.
RT: What could lead to a commodities super spike?Ole Slot Hansen: I think if you look at two different sectors, you look at energy first the worry there is if we see a spreading of the unrest we see in Libya, if that spreads to the Middle East, that could cause a lot of problems because if we think about Saudi Arabia they are 12% of the global production.If something should happen there we could definitely see a spike similar to one we saw in 2008.And if we turn to agriculturals, we are coming into this year with very low stocks after the bad weather we had last year.So the weather over the next few months is really going to be the deciding factor whether we have another spike higher in the cost of agriculturals.RT: And apart from what you have just said, what's driving this?OH: There is also a lot of investment demand.Demand for commodities over the last few years from the investment community has risen quite dramatically.That has been caused by fear of inflation, interest rates – we have loose monetary policy in several countries.And it has just made commodities become a new asset class.Many investors are now increasingly adding that to a diversified portfolio.RT: Which commodities do you expect to see make the biggest gains?OH: Well it's difficult to say from these levels we have reached already.Oil could, it has rallied 55% from the 2010 average, so there is a risk now, just near term, that if we don't see any further escalation we could actually run into some profit taking in oil, and potentially see it back towards the $100-$105 level, and that one is probably a bit tricky to get involved with at these levels, but elsewhere we think gold is a good investment. We need to see what is going to happen with the quantitative easing in the US, when that finishes in June how the market will react to that.But agriculture seems to be in short supply for the next few years so that as well has been receiving a lot of investment. RT: Silver has also climbed significantly.OH: Silver has been astonishing.Just a couple of years ago you could buy 80 ounces of silver for one ounce of gold, now that's down to about thirty five. Whether it is going to continue from here – it could potentially reach $50 because there is momentum and a lot of expressions of interest from investors going into silver, but one has to be very careful because we are getting into bubble territory.Eventually and we could turn lower quite dramatically. So for now you cant really go against it but perhaps be prepared for some increased volatility in the road ahead. RT: Would a super spike be good for Russia or will it be too inflationary?OH: Well I think with crude, we are looking to stay above $100 for the foreseeable future.The Russian budget at current measurement will be in balance so that's good.The rouble will obviously continue to be strong with the revenues from energy and the stock market has obviously been the best performing stock market over the last three months globally, so that will continue to be supported from high energy prices.
You can share this story on social media: