Coming to grips with Russia's inflation bogey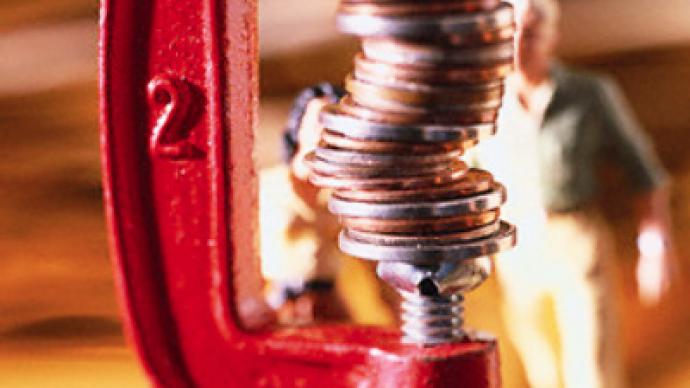 Despite the onset of an economic slowdown in the wake of the global financial crisis of late 2008, a key hallmark of the boom years remains in Russia in the form of inflation.
In March it was running at 14% year on year, despite the global slowdown and with major global economies spending massive sums on economic stimulus to head off the prospect of deflation. Elsewhere amongst the major developing economies, Russia's BRIC counterparts Brazil and India are running inflation rates of 5.6% and 8% respectively, with China experiencing 1.2% deflation – as the effects of the world's largest stimulus in terms of GDP wait to kick in.
The odd man out
This leaves Russia, with its economy expected to contract by as much as 6% this year, the odd man out, running inflation expected to be about 13% for this year. President Medvedev isn't holding out great hope it can be brought down significantly in the short term, with the devaluation of the Rouble between November 2008 and February 2009 being a key factor.
"Russia is in a very difficult situation now. We didn't manage to fight inflation before the crisis started. At that time inflation was around 8% but after we were forced to devaluate Rouble to some extent, particular processes accelerated. The amount of money in circulation increased thus causing higher inflation pressure. As a result, our forecast was 13%, which is really impossible."
There is a little more optimism from the Head of the Central Bank of Russia, Alexei Ulyukaev. With the Rouble currently having rebounded somewhat from its early year devaluation he is seeing some scope for better than expected inflation results, recently indicating that the official forecast could be reduced to 12% for the year, noting that in May inflation was less than half the rate it ran in May 2008, and that inflation can be expected to fall over the summer months, possibly to the point of zero inflation for short periods.
Disinflation – cheaper food in summer
Also looking for a reduction in the inflation rate – known as disinflation – is Uralsib Chief Economist, Vladimir Tikhomirov, who notes it is a regular phenomena in Russia, indicating the increased supply of locally grown vegetables and herbs during the summer months.
He notes that produce comprises about 40% of the basket of goods which is used to measure inflation, with horticultural products reflecting between 15-18%. So, during the peak Russian growing season – mid summer – the increased availability of produce, and accompanying lower prices, brings inflation down.
When summer ends, and produce begins to be imported again, prices go up reflecting transportation costs again becoming part of the pricing equation, and this year, Tikhomirov says, it is possible there will not be much of a disinflationary effect from falling produce prices, because fuel prices for transportation are rising and will rise further after a new price for petrol was set in May. Its here where Tikhomirov sees a real driver for Russian inflation – fuel costs. Not just for food produce but for everything which is shipped around Russia – from electronics components to people, from raw materials to consumer goods.
Of more widespread falls in prices, or even slower price rises, Tikhomirov is pessimistic, noting that if it were to occur it would reflect negative economic fundamentals stemming from people spending less, leading to reduced demand, and flowing back into the economic loop as lower revenues for producers and retailers – which eventually leads to further layoffs and further reductions in aggregate demand. Also expecting some reduction in the rate of inflation is Unicredit Chief Economist, Vladimir Osakovsky, but like Tikhomirov he doesn't see it as necessarily positive.
"There are no real reasons for optimism about inflation going down because lower demand as well as the growing rate of unemployment are among other factors."
Osakovsky believes that under the current circumstances the government needs to boost demand, acknowledging that this will aggravate Russia's inflation rate, while expecting that inflation will subside due to the fall in money supply in Russia since last summer, and the managed Rouble devaluation from November to January this year.
"Starting last year, the money supply in Russia has been constantly decreasing, for the first time since 1998. Capital outflow and the managed Rouble devaluation are the main reasons for the process. As a result, we expect the inflation of 9% this year."
Rouble rebound helping to keep a lid on?
The rebound of the Rouble from a rate of about 36 to the U.S. dollar in early February to about 31 to the dollar now is a key factor in why Anton Tabakh, senior analyst at Troika Dialog, believes inflation may be less than the official forecast over this year.
"If we look at the dynamics of inflation starting from February 2009, we can see that it has a downward trend. In the first place, stabilized prices and a stronger Rouble have influenced the process. At the same time high tariffs keep the inflation high. Anyway, this year we expect the unusual situation when we will most probably result in a lower number than the official forecast."
Tabakh isn't seeing any sign of deflation as yet, noting that people on the streets are still experiencing rising prices. He believes the Government shouldn't try to manage inflation, having other problems, and having had minimal success in its past attempts.
"Anytime the Government tries to help fight high inflation, it leads to a slowdown of the economy. Today Russia's economy has enough problems, so, I think, the Government should better sit aside."
One of the fears about persistent high rates of inflation is the effect it has on investment, as well as the effect it has on purchasing power. Despite these concerns, Ludovic Holinier, Director of Management Controls at major retail group, Auchan, says that Russia's inflation rate isn't affecting investment plans, and that even the current high levels of inflation aren't hitting shoppers yet.
"Actually, we think the current high rate of inflation is a short term problem while our investment programs are related to longer periods. We still believe in Russian consumers and see high potential in Russian markets, so we haven't changed our investment programs anyhow. Moreover, despite an extraordinary situation we have this year, where inflation rates are outpacing average household incomes, we don't see any significant changes in the amount of a consumer's package."

Business RT: James Blake, Anastasia Kostomarova
You can share this story on social media: