Snowden job? China may award US 'access all areas' in investment talks
Published time: 12 Jul, 2013 11:23
Edited time: 12 Jul, 2013 12:32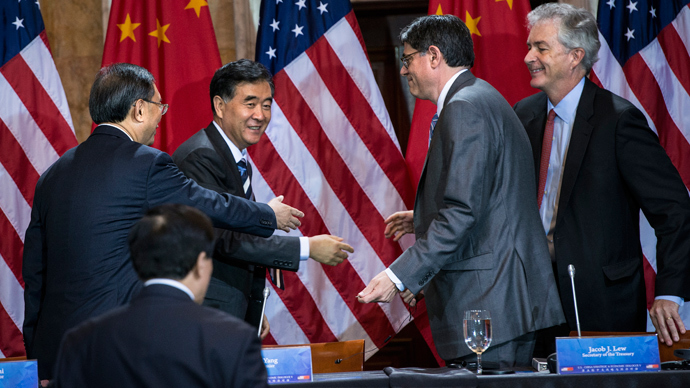 As the US lectures China over its 'mishandling' of NSA leaker Edward Snowden, Beijing has agreed to resume talks on an investment treaty with the US that could open up new business opportunities.
For the US business community, the otherwise embarrassing Snowden scandal may prove to be a blessing in disguise in talks with Chinese negotiators.

The United States has said it is "very disappointed" in China for not handing over Edward Snowden, the former NSA analyst-turned-whistleblower, who escaped to Hong Kong with a laptop full of secrets in hand.

Meeting with Chinese envoys on Thursday, President Barack Obama voiced "disappointment and concern" that Snowden was allowed to leave Hong Kong on June 23 for Russia.

Speaking at a joint press conference, State Councilor Yang Jiechi said that due to Hong Kong's autonomy, the region's decisions were based on its laws and were "beyond reproach."

Despite the scandal, both powers agreed to restart investment treaty talks.

American firms have been anxious to gain access to lucrative Chinese markets as consumer demand among an expanding middle class continues to explode. A deal between the two economic superpowers could see key sectors of the Chinese economy open up to American companies.

Chinese officials seem prepared to break with precedence and make all sectors of its economy fair game to US investors.

US Treasury Secretary Jack Lew hailed the investment treaty commitment as a sign of positive change in the Communist-controlled country of 1.35 billion people.

"A high standard US-China bilateral investment treaty is a priority for the United States and would work to level the playing field for American workers and businesses by opening markets for fair competition,'' Lew said in a statement.

"The commitment made today stands to be a significant breakthrough and marks the first time China has agreed to negotiate a Bilateral Investment Treaty, to include all sectors and stages of investment, with another country," he added.

Chinese regulators will also release some audit documents of US-listed Chinese companies to US securities regulators, Lew said on Thursday, a move that is hoped to mitigate a dispute over several accounting scandals.

Washington is looking for greater oversight after alleged misconduct at Chinese firms listed in the US led to billions of dollars in losses. Investigations into possible fraud have been blocked as auditors have refused to turn over documents for fear of violating Chinese privacy laws.

The decision to restart the bilateral talks was reached at negotiations between American and Chinese officials in the US on Thursday.