China eyes purchase of Russia's Su-35 fighter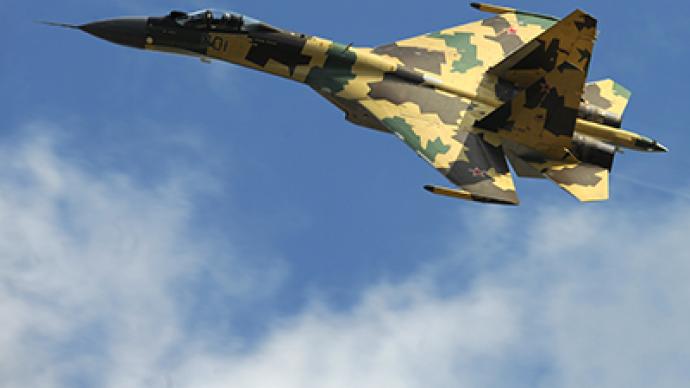 Beijing is interested in buying Russia's new Su-35 multirole fighter, according to the President of Russia's United Aircraft Corporation (UAC) Mikhail Pogosyan.
"The Chinese are showing interest in this jet. But we have agreements that we disclose information only upon reaching actual agreements. So, I am not going to comment on the pace of negotiations," Pogosyan said at the China International Aviation & Aerospace Exhibition in Zhuhai. Russia is going to present a prototype of the Su-35 at the air show in China in two years time. "I think in 2014 we will demonstrate state-of-the-art combat in a demonstration flight at the Zhuhai exhibition," Pogosyan said. The Sukhoi Su-35 is a single-seat, twin-engine super-manoeuvrable multirole fighter. It is a derivative of the Su-27M, used by the Russian Knights aerobatic team. The Russian Knights are taking part in the air show in Zhunai and are expected to make 9 demonstration flights.Earlier this year China purchased more than 50 Russian Mi-171 helicopters and AL-31F engines, in deals worth $1.3 billion. Defence exports to China from Russia have reached $2 billion and form "approximately 15 percent" of Russian Military exports in 2011, according to Russia's Federal Military-Technical Cooperation Service.Laos and Indonesia are also reportedly showing a great deal of interest in Russian aircraft, particularly in the Sukhoi Superjet 100 airliner. India is also negotiating with Russia to upgrade its fleet of Sukhoi Su-30s with new radar and avionics, IANS news agency reported, citing sources in the Indian Air Force (IAF). The upgrades are likely to begin in 2015.Airshow China 2012 with more than 30 foreign delegations attending opened in the southern city of Zhuhai on November 13th and will last until November 18th.
You can share this story on social media: