Russia and China cement business alliance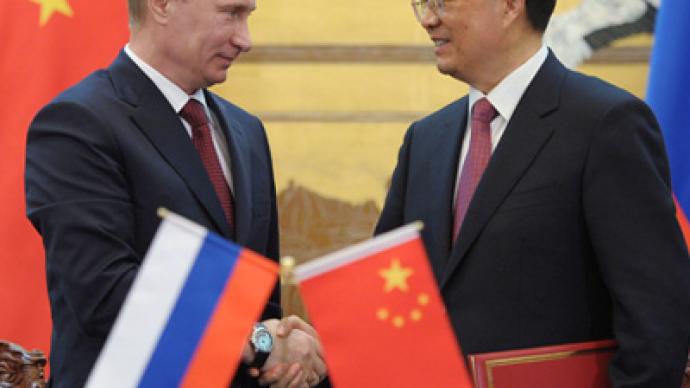 Russian President Vladimir Putin and his Chinese counterpart Hu Jintao have signed pivotal investment, energy, innovation and technology cooperation agreements as the two leaders met during Putin's three-day visit to China.
The heads of state also pledged to boost economic cooperation in the face of global financial turmoil."China and Russia are both committed to restructuring their economy and addressing the risks and adverse influence in the global economy," Hu said during his talks with the visiting Russian president.The Chinese leader suggested that China and Russia expand their cooperation in investment, high technology, energy, large-scale projects and trans-border infrastructure as well as sub-national cooperation.Putin said there is great potential and broad prospects for the cooperation between Russia and China, maintaining that the two nations can achieve their goal for bilateral trade to reach $100 billion in 2015 and $200 billion in 2020. Indeed, the trade cooperation can't be better – in 2011, bilateral trade volume reached $80 billion, a record high, showing a 42.7-percent year-on-year rise.Putin said Russia hopes to coordinate with China more closely to push ahead with key projects and improve bilateral cooperation, as well as continue to diversify bilateral trade, intensify mutual investment, initiate new programs on infrastructure and high technology, and increase exchanges between regions and enterprises.During the meetings the two countries also signed 12 diplomatic and business agreements to support booming trade, and finalized a deal to establish a joint $4 billion investment fund. The Russian fund and the Chinese sovereign wealth fund will each contribute $1 billion to the joint venture, while the rest will come from Chinese investors. Seventy per cent of the fund's investments will be in Russian projects, and the rest in China in the fields of car manufacturing, timber processing, agriculture, transport and logistics. A multi-billion-dollar investment fund is expected to make its first investment, into a Russian forestry company, according to reports.The two countries are also expected to sign a host of agreements and look to firm up their energy cooperation.
Last year Russia supplied 15 million metric tons of crude oil through exclusive pipelines, and the two countries are in talks to reach a similar agreement to supply Russian natural gas to energy-hungry China.The Russian delegation included the heads of Russia's energy giants Gazprom, Rosneft and Transneft, and other major Russian business people. While energy is high on the agenda, a long-anticipated gas deal that could see Russia supply 70 billion cubic meters of gas a year directly to China, was not signed due to pricing disagreements, Gazprom said on Monday.
Beijing is also looking clinch agreements on high-end military technology which Moscow which have been withheld so far, according to analysts.Russia and China have also signed a cooperation agreement between the Skolkovo Foundation and the Beijing-based Z-Park. The agreement marks a transition to full-scale collaboration in high technologies between the two countries. Among reported deals to be inked during the visit is a joint project to develop a new long-haul aircraft by Russia's Ilyushin and China's Comac."Russia and China have always has close relations… and there's a lot of room for growth. Russia is China's gateway to Eastern Europe. If Russia opens its industry to China and to Chinese investors, this can help Russia to diversify its economy," says Francis Lun, Managing Director at Lyncean holdings.
You can share this story on social media: