Changes should be made to improve Russia's banking system: Putin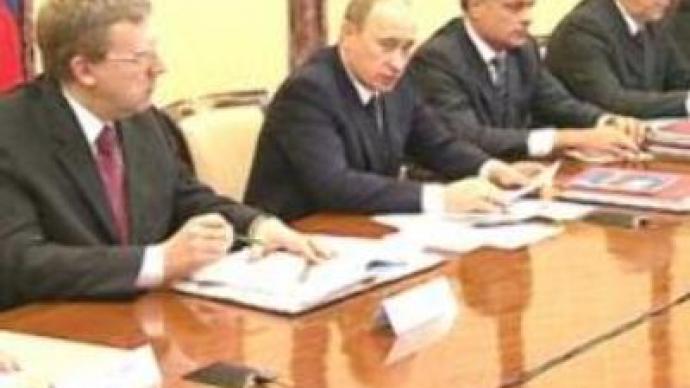 Russia's President has called on banks to make the system more competitive to help Russia's accession to the World Trade Organisation. Vladimir Putin urged the formation of large financial structures.
He said these structures will strengthen the positions of the national banks and will be supported by the government and business community. He also criticised the mortgage system, stressing that it remains unaffordable for most people and that the banking system needs to be made more accessible.
President Putin
said that
"only a quarter of Russian citizens have banking accounts, while less than 10% of the population own plastic cards. The majority of the country's citizens do not understand the work of the banking system, thinking it's too complicated and requires special professional training. I'm convinced that all these issues must be solved systematically
".
Vasily Solodkov
from the banking institute at the Higher School of Economy, describes Russian current banking system.Mr Solodkov said that Russia's banking system has changed greatly in the last ten years.
"Ten years ago most of the banks were busy actually with gambling. They were investing in Russia's tragical bills and because of macroeconomic policy of that time they were making like 80 % profit. And that is why, they were not interested in customers. And any bank had to pass through rare sophisticated security system. Now all the banks are opened, they have good relations with customers, the welcome their customers and most of them are developing retail banking,"
he said.He said the banking system will develop further if Russia joins the WTO.
"You know, that now we are negotiating the process and the main objective is different positions of Russian and US governments on this issue. Russia stands for not allowing foreign bank branches to be set up in Russia and the U.S. government is insisting on Russia's permission for foreign branches to operate within the Russia's territory."
Mr Solodkov adds that the Russian banking system is developing very fast.
"And taking into account the average rate of development, I think in 5 years or even less, we will have a normal banking system. And even now Russian the system provides a high rate of retail banking and has become interesting for the foreign bankers,"
he said.
You can share this story on social media: