Central Bank to issue 5kg gold coin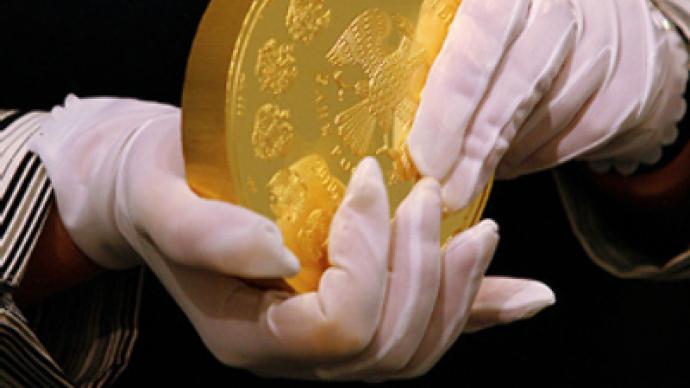 The Russian Central Bank has announced that it will issue a 5-kilogragm cold coin in honor of the 150 anniversary of the Bank of Russia.
From June 12, the gold coin will be available for sale in commercial banks, said Central Bank Money Circulation Director, Aleksandr Yurov.
"The anniversary of the Central Bank is on the 12th of June, after that date the coin will go into commercial banks."
Central Bank deputy head Georgiy Luntovsky said that two gold coins with nominal sums 50 and 50 thousand Roubles and silver coins with nominal sums of 3 and 25 Roubles will be issued. The 50 thousand Rouble coin is made from the purest 0.999 gold and weighs 5 kilograms.
"The Central Bank is issuing for the first time a coin with such a weight and nomination."
Luntovsky added the coin will feature a portrait of Emperor Alexsandr II who decided on the establishment of the Central Bank, but noted the central bank does not plan to sell the coin itself.
"We will sell the coin through commercial banks. Employees of the Central Bank will also not receive any kind of discount on the coin." He added that so far 25 of the 5-kilogram coins have been produced.
Currently Canada has the largest coin at 100 kilograms, and the Central Bank initially wanted to make a 150 kilogram coin but "coundn't find the appropriate scales, we would have had to invest heavily into the development of them."
According to Central Bank figures, demand for gold coins has been falling compared with last year. In the first quarter of this year 54 thousand units were sold with a total weight of 600 kilograms which accounts for only 10% of last year's total.
Read also – Bank of Russia Releases Largest Gold Coin Worth $200,000
You can share this story on social media: