BP head Robert Dudley to represent Russia on Rosneft board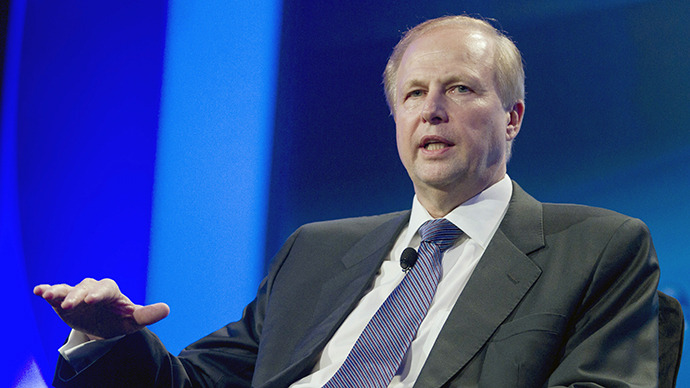 The head of British Petroleum Robert Dudley has been nominated as a state representative for the Board of Directors of Rosneft, Russia's leading oil extraction and refinement company which is about to become world's biggest listed oil company.
BP secured two board seats at Rosneft after an agreement to sell its 50 percent stake in Russian joint venture TNK-BP to the company, according to a government decree published on Friday.
It is hoped Robert Dudley's nomination to Rosneft management will bring experience that will "increase the efficiency of the integration process [with TNK-BP] and make the company one of the world's most competitive players," according to Rosneft boss Igor Sechin.
As a Rosneft board member, Dudley will have to work closely with Matthias Warnig, a former East German secret agent turned investment banker who was offered the option of retaining his non-executive seat on the Rosneft board.
Other representatives for Russia include VTB Bank CEO Andrey Kostin, Russian Academy of Sciences Vice President Aleksandr Nekipelov, Rosneft President Igor Sechin and Rostechnadzor Deputy General Director Dmitry Shugaev.
Dudley has vast experience in the oil business. From 2003-2008, he was President and Chief Executive of TNK-BP and under his leadership the joint venture increased oil output by a third to 1.6 million barrels per day. In 2009 he became managing director of BP overseeing the company's activities in the Americas and Asia. In 2010 he was appointed President and CEO of BP's Gulf Coast Restoration Organization and was responsible for coping with the oil leak in the Gulf of Mexico that affected five US states. On July 27, 2010, BP announced that Dudley would succeed Tony Hayward as BP's Group Chief Executive, which made him head of the company.
TNK-BP's top managers have already received instructions to start their merger with Rosneft. The companies are expected to go through a 'mixed integration' that will see their staffs joined together.
Rosneft has an agreement to purchase 100% TNK-BP from BP and the AAR consortium of Russian billionaire shareholders. The terms of the deal see BP selling its half in TNK-BP to Rosneft for $17.1 billion and a 12.84% of the Russian company, while the AAR (Alfa-Access-Renova) consortium sells the other half for $28 billion in cash.

You can share this story on social media: