Baltika reports astounding profits growth in 2006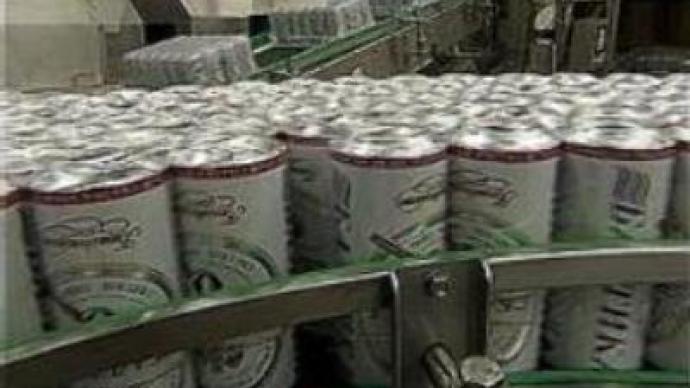 Russia's leading brewer Baltika has announced a 42 % increase in net profits to $USD 430 MLN in its 2006 financial results. The brewer is owned by Scottish & Newcastle and Carlsberg and has a market share in Russia of about 36 %.
Being one of the largest breweries in the world, the company's plan is to get on top. Last year Baltika merged with fellow Russian brewers Pikra, Vena and Yarpivo. The holding says the synergy effect added $ US 80 MLN to its profits. Meanwhile, analysts say it wasn't just the successful merger which led to the impressive results.
'Russian market had a phenomenon growth last year, but this is not likely to continue. Firstly, the market grew so much because of the weather, which potentially can happen this year. The second factor was the excise problems, because of which a number of wines and liqueurs that didn't have the right excise labels were missing from the shelves. That's what increased the consumption of beer. Will this happen again? Very unlikely,'
Victoria Grankina, Senior Analyst Troika Dialog, commented.Baltika states this year will bring some obstacles to further growth.
'The situation on the raw materials market is tougher than it was last year.
We expect the price of malt and hops to increase an average of 20% this year. However, we are trying to smooth the impact of that. We have opened our own malting plant in Yaroslavl. Another agro-project is to grow our own malting barley in the Central Russia. We started with 10,000 tonnes per annum, now it is a 100,000 tonnes, soon it will be 200,000 tonnes,'
Anton Artemyev, the President of Baltika Breweries, outlined. The holding says its domestic sales volumes and exports grew faster than market itself.On the list of top leading brands in Europe, Baltika is at second place, straight after Heineken. The company says its strategic goal is to make Baltika the beer number one in Europe. Their more ambitious plan – is to become the leading brewery in the world. The company believes its plans are realistic. The holding already has 10 breweries. Baltika says 2008 will see another one.
You can share this story on social media: