​Argentina seeks to renegotiate $10 bln debt with Paris Club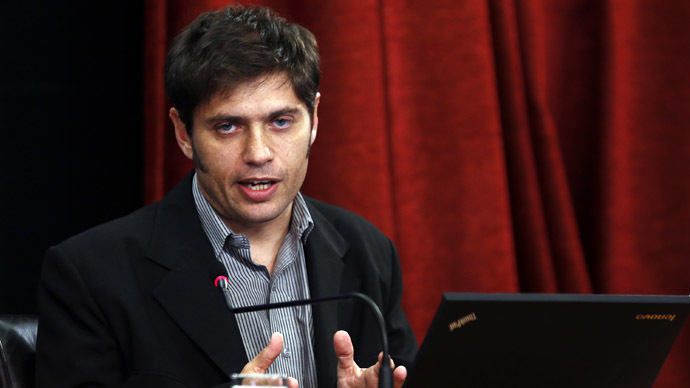 Argentina wants to renegotiate the repayment conditions of $10 billion it owes to the Paris Club of creditors including the US, UK and Russia, after it defaulted on its record $95 billion debt in 2001.
The Buenos Aires newspaper Ambito Financiero suggests about $4 billion in interest and penalties on the debt could be forgiven, so the country will have to repay slightly more than $6 billion.
The offer was first delivered on Monday and will be discussed on January 22 by Argentina's Economy Minister Axel Kicillof and Paris Club Chairman Ramon Fernandez, as Clotilde L'Angevin, the club spokeswoman told Bloomberg in a telephone interview.
"Argentine officials presented [on Monday] some main principles that could serve as a basis for repayment proposals that Argentina can make to the club," L'Angevin said. "The meeting was short, between one, two hours and is not part of a negotiation process."
Jorge Capitanich, the Argentine Cabinet Chief told reporters in Buenos Aires that Kicillof would negotiate "in line with the country's national interest and its repayment capacity." Avoiding to comment on whether the country intends to go for the discount, he said that "Argentina saved $82 billion after restructuring its 2001 defaulted debt."
The Paris Club, the group of 19 creditor nations, insists the debt should be paid in full, a person related to the matter told Bloomberg.
Argentina defaulted on its $95 billion debt 13 years ago, and now it's seeking to restore the country's investment profile. As part of the effort, it's going to publish a new consumer price index, after becoming the first country to be censured by the International Monetary Fund for reporting inaccurate economic data.
The Paris Club of creditors was formed more than half a century ago with the direct participation of Argentina. In 1956, representatives of the Argentinean authorities met for the first time the creditors in Paris. Since then, the Paris Club has signed 429 various credit contracts with 90 different countries totaling $573 billion.
You can share this story on social media: