IMF about to show 'red card' to Argentina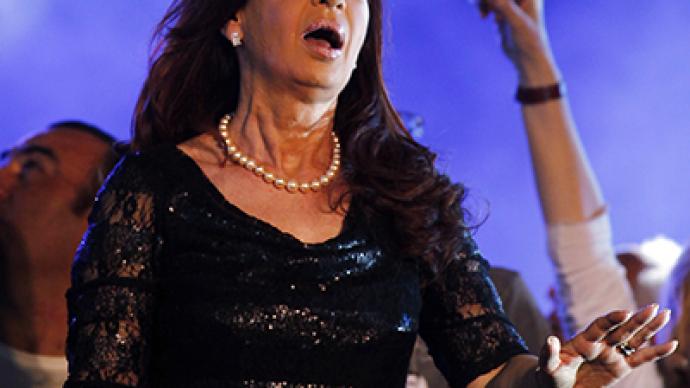 Argentina could be forced out of IMF and G20 over accusations it repeatedly fails to provide accurate inflation and GDP data.
The International Monetary Fund (IMF) management provided a report on Argentina to the IMF board on Monday that could result in the country's expulsion, Bloomberg reports. The report left it to the 24 executive directors to decide in January whether to censure the country. In September the IMF warned there could be repercussions if Argentina fails to produce accurate inflation and growth data and set a three-month deadline that expires on Monday. The IMF claimed Argentina had "not brought itself into compliance" over the "quality of the official data reported to the Fund." Argentina has yet to respond.Argentina officially reported 8.9% GDP growth in 2011, but independent analysts claimed that it is three percentage points higher than real figures. As for inflation rate, Argentinean officials report it stands at about 10%, while independent data shows it has reached 25%-30%. To get figures that look closer to reality, the opposition in Argentina's lower legislative house use the Argentine Congress Index, a work by nine private agencies, and publish the numbers through the House Freedom of Information Committee, BusinessInsider reports. Rising prices have been a major spur to recent mass protests against Kirchner's government in the capital Buenos Aires. If censured, Argentina could have its voting rights suspended and consequently expelled from the IMF. Expulsion from the 188-member club could mean the country would lose access to international credit lines. Argentina is already the only G20 member not to allow regular IMF scrutiny of its state accounts. IMF rules state that member states "must not co-operate with a non-member in practices that would be contrary to … the purposes of the Fund." Also it will be the first time a country has been expelled since the former Czechoslovakia was kicked-out in 1954 for "failing to provide required data."In September IMF head Christine Lagarde threatened the country with a "red card", saying that if Argentina does not start producing reliable statistics on its inflation and economic growth, the country can be expelled from IMF and the G20 group of industrial nations. In response Argentina's President Cristina Fernandez de Kirchner said at the UN General Assembly that "Argentina is not a soccer team, it's a sovereign country and accepts no threats or pressures." "In the game of comparing football with economics and politics, let me say that the President of FIFA has been far more successful and satisfactory than that of the IMF Executive Board," Kirchner added.Debate about Argentina's official statistics goes back to 2007, when the government dismissed, fined and charged with embezzlement the director of consumer pricing at INDEC, Argentina's official statistics agency. Graciela Bevacqua was fired after she spoke out about issues with the country's numbers and published her own. She claimed that her superiors asked her to leave off decimals in the calculations, turning a 1.9% inflation rate into 1%, which over time makes a big difference. The American Statistical Associating protested the political persecution its colleagues face in Argentina, the Economist reported in February.  Relations between the IMF and Argentina have been strained for several years. The former President Nestor Kirchner, and husband of the current President, blamed the IMF for Argentina's default in 2001. It triggered a financial crisis and pushed half of the country's population into poverty. In 2006 Argentina repaid all of its IMF loans and refused to allow IMF officials to conduct annual economic checks.
You can share this story on social media: