Arab Spring unrest pushes up demand for armored jeeps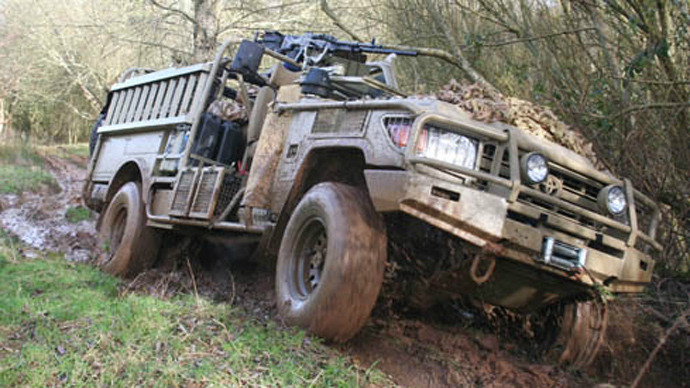 In the aftermath of the Arab spring, with revolts and unrest continuing across the Arab world, governments and rich individuals are queuing up to buy armor plated four wheel drives and Sport Utility Vehicles (SUV's).
The industry grew mainly because of the wars in Iraq and Afghanistan, but even with these conflicts winding down there still appears to be plenty of demand for a little extra protection.
Britain's Jankel, Canada's INKAS and Germany's Traseco are the leading manufacturers in the field, but new entrant Ares Security Vehicles, which was founded in 2010, also has a healthy order book.
"This batch of vehicles is going to Iraq, and the one behind is going to Russia. We are awaiting delivery tomorrow of 30 destined for Libya," Marc Rouelle, a Belgian engineer and chief executive of Dubai based Ares, told Reuters.
Defense industry consultant IHS Jane's says that while the market for traditional military vehicles is slumping more than 4% a year, the demand for armored SUV's and limousines is on the up.
Many of the bigger brands like Mercedes-Benz, BMW and Jaguar Land Rover, produce their own armored versions but most of the industry is made up of companies who fit their own armor to new or second hand vehicles.
Jankel has been around for decades and has been rebuilding limousines for heads of state and other clients, as well as building armored riot control vehicles for the police and military since the 1980's.
But according to insiders demand has shot up in recent years.
"It's a murky market and it's hard to get any exact figures. But companies are talking about a 30-40% increase in sales in the last four or five years. The big auto manufacturers are increasingly realizing there is money to be made but the main area of growth is probably at the other end of the spectrum," said Jon Hawkes, a senior analyst for military vehicles at IHS Janes.
Perhaps unsurprisingly, the Middle East has emerged as the new center of the industry. At the height of the Iraqi and Afghan wars firms operating in the United Arab Emirates were producing up to 400 vehicles a month.
But while demand has tapered off slightly as foreign troops begin to go home, new workshops have sprung up in Iraq and Afghanistan, capable of making their own armor conversions.
For Ares, though, Dubai is still the prefect home. It has a cheap migrant work force, low tax rates and it's close to the growing markets of the Middle East, Africa and Asia.
Buyers include multinational companies, such as oil firms, who are interested in bringing down their insurance premiums, as well as private individuals who look at an armor plated land cruiser as the ultimate lifestyle item.
One client asked Ares to armor plate a Porsche sports car, but Rouelle declined the business, he explained, preferring to concentrate on the firm's strengths – bullet and grenade proofing jeeps. 
But the real money is still seen to be in government contracts. In the Middle East and North Africa secret police and government security forces have increased their resources and opened their wallets.
Saudi Arabia has brought several dozen armored Land Cruiser type vehicles in response to trouble along its border with Yemen and in the minority Shi'ite dominated oil-rich east of the country.
Qatar has reportedly brought a similar number, which are suspected to be for rebels in Syria.
You can share this story on social media: