Necessary evil: Putin urges strict rules for protectionism
Published time: 7 Sep, 2012 09:33
Edited time: 7 Sep, 2012 20:37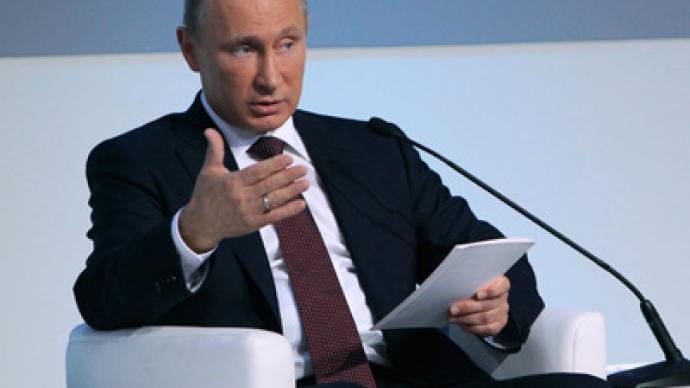 Keeping global and regional markets open in the time of economic crisis is crucial for eventual recovery, says Russian President Vladimir Putin. That is why the world needs stricter rules on how and when countries may use protectionism measures.
The president warned against excessive shielding of national economies while addressing the APEC summit in Vladivostok, in Russia's Far East.
"Addiction to the medicine of protectionism may temporarily relieve the pain, the acute symptoms, but it slows down the recovery of the global economy, hampers trade and investments," Putin said.
He added that so far the world leading economies have abstained from taking "irresponsible unilateral moves with unpredictable consequences," and are acting as a team. But the easy path of limitation remains attractive. At the peak of the crisis of 2008-2009, world trade decreased by 12 per cent, he reminded, the most severe plunge since World War II.
"Sporadic protectionist restrictions" contributed to the decline, Putin stressed, and everybody had to foot the bill.
He admitted that Russia is not clear from the blame itself. He personally ordered protective measures to be taken to shield some Russian industries. Sometimes such actions are necessary, the president said.

"Nobody denies governments their right to protect sectors of their economies which are most vulnerable to global turbulence," he said.
Countries have to come to an agreement on the permitted level of protectionism and come up with clear rules on how and when trade restrictions may be taken, Putin believes.

"It's bad when we put one thing on paper and do absolutely another thing in life, with an understanding that under the circumstances we cannot act otherwise," he said.
Putin sees Russia's part as a newly-fledged member of the World Trade Organization in forging such rules.
"What we need is mutual trust and certainty on this issue," he said. The work will boost the WTO's importance and efficiency as an international trade arbiter, Putin believes.