AFI Development to open Mall of Russia by Christmas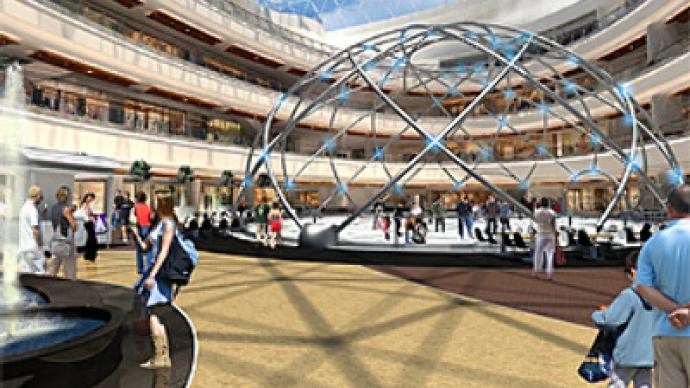 Russian property development group, AFI Development, has announced that its 180,000 square metre Mall of Russia project, the group's largest, will be opened in early December.
Announcing the opening, Board Chairman, Lev Levaev, said that he expected that by that time 70%-75% of the mall's retail space will be occupied, with major tenants including X5 Retail Group, Marks & Spencer, Gap, H&M, Zara, Next and Bodyshop.
"We are proud to announce that the grand opening of the outstanding Mall of Russia Shopping Entertainment Centre will take place in early December of 2010. Mall of Russia is a unique upmarket commercial project, reflecting the experience and professionalism of the company. We are sure that carefully researched seasonal demand, indicating maximum interest in New Years Eve purchasing, will underline the entrance of Mall of Russia to the Moscow retailing pantheon and boost shopper numbers in the grand opening month."
The Mall complex will include a multi-purpose hi-technology concert hall with 6000 seats, a "Formula Kino" multiplex with 4D and 5D technology, and large screen facilities for live concerts, football, and formula one racing. The project has been developed under the aegis of celebrated architect G. L. Sirota, who has planned the interior design and fittings, as well as the cutting edge exterior façade.
Natalia Ivanova, AFI Development PR Director, says the grand opening will unveil Moscows latest and most advanced modern shopping leisure centre with luxury interior design and a convenient and friendly atmosphere.
"The concept of the shopping entertainment centre is orientated towards the premium and luxury end of the market, whilst including a variety of brands with mass middle and upper market appeal. The grocery retailing will include a premium Perekrestok Green. It will have more than 50 cafes and restaurants on its food court area including a Burger King."
A key advantage of the project is its location in Moscow's ultra modern new business district, 'Moscow City' which is home to a range of skyscrapers currently nearing completion, which is expected to become home to the city's burgeoning financial sector. The location has its own metro, Vistavochnaya, is within 300 metres of major road transport routes, and when the entire Moscow City project is completed, is expected to see a direct rail link with Sheremetyevo and Domodedovo airports.
Ivanova added that negotiations were currently taking place over the complex entertainment zone, but said that it would be one of a kind. She noted that leisure was a key part of the Mall of Russia concept, taking it well upmarket from the nearby, retail focussed, Europeisky shopping centre.

Colliers International is the project advisor on commercial leasing, with Director of Commercial Real Estate, Tatiana Klyuchinskaya, ebullient about the success of the project, which already has anchor tenants for 40% of its retail space.
"The deal with top quality brands shows that, despite hard times, large retail operators continue to show interest in new projects. Their key criteria continue to be project location, and the experience of the developer, and this project bears that out. Mall of Russia has massive potential, is at the cutting edge of providing new retail experiences for Russian consumers, is located in a vast catchment area, and is well supported financially."
Mikhail Sverdlov, Head of retail property at Cushman & Wakefield believes the shopping entertainment centre concept underpinning the Mall of Russia would keep it at the forefront of Moscow retailing for years to come.
"The Mall of Russia is an absolutely unique project and will definitely have success. The company has had to manage a number of infrastructure issues, however, and it is an expensive project. But, I think, it will complete the infrastructure at Moscow City and I don't think the owners are chasing immediate returns and will be looking to stick with the concept and cultivate loyalty. Most of the new and popular brands have signed agreements and the Mall of Russia project will remain unique for a long time, as there are no comparable projects underway or even in planning."
You can share this story on social media: