Acquitions up in Russian media sector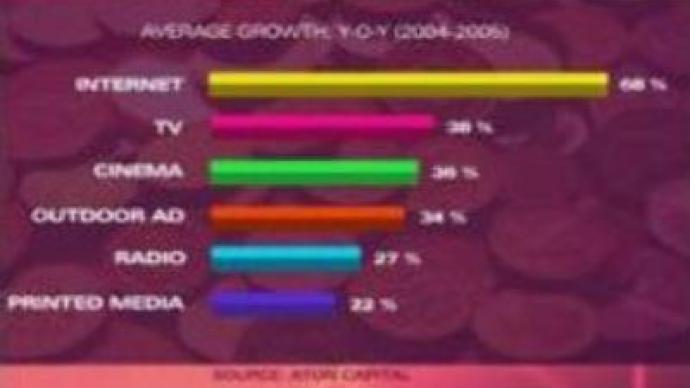 2006 saw a wave of mergers and acquitions in the Russian media sector. The country's businessmen revealed a strong appetite for both old and new media, snapping up newspapers, television stations and internet portals.
It looks like a new breed of Russian media moguls is on the rise. At the centre is Vladimir Potanin, whose holding, Prof Media, has so far spent an estimated $ US 1 BLN on new assets. It acquired three entertainment television channels, an internet portal and a media company that owns a search engine and a prominent news site.Other oligarchs have also been busy, with metals magnate Alisher Usmanov buying a leading business daily while eyeing a sports channel and Russian aluminum tycoon Oleg Derispaska buying a magazine as the basis of his own media empire. The head of the newly-purchased channel TV-3 Tim McDonald believes the answer is simple:
"First of all, I think the people have come to realise that media are high growth, low investment businesses."
The numbers back the claim with Internet and television sectors showing the fastest growth of revenue streams.Like the economy, commercial television in Russia is booming. And it's television channels like TV 3 that focus mainly on entertainment that are seeing the highest growth. And it's the advertising profits that are drawing investors into the television sector.Ad revenues reached $ US 5 BLN in 2005. This may seem small for a big country like Russia but the levels of profitability in this market are in no way humble.
"Markets like TV – they offer 30-35 percent net margins and 50-55-60 percent year-on-year growth over the last five years. Secondly when it comes to the internet market, it's still very small, it's the most rapid one in Russia and globally and is also really promising since it offers 50-55 percent in net margins, which is an amazing figure as you can see,"
stresses Tatyana Kapustina from Aton Capital Moscow.Russia's largest car-maker Avtovaz, for example, has to make over 700,000 cars a year to earn just 2 percent in net margin. By contrast, this entertainment channel will see 50 percent return this year alone.
"Here in Russia, old media, what we call old media in the West – television, radio is a growth industry. It's no longer a big growth industry in the United States, for example, but here it's a big growth industry,"
says Tim McDonald.Analysts say investing in media is also a good way for the metal magnates to diversify their business, hedging against possible swings in commodity prices. But others say there's more than business to the deals.
"There are a number of political reasons as well. In the view of the 2008 election, we are going to view more M&A activity, to my mind, since the media market is something like an additional force in the election run,"
forecasts Tatyana Kapustina.Before 2008, analysts say, other big companies close to the Kremlin – like Severstal or RAO UES – could also decide to set-up media holdings.
"I would expect them selling these media assets after the elections. That would be reasonable actually,"
also believes Tatyana Kapustina On the other hand, given the returns they can earn in the media sector – some of these new boys may decide to stay.
You can share this story on social media: