Ukraine reveals size of latest World Bank loan
$1.1 billion in financial aid for the country has been approved, Prime Minister Denis Shmigal claims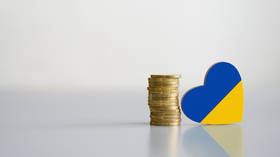 The Ukrainian government expects receive $1.1 billion from the World Bank, Prime Minister Denis Shmigal said on Saturday, adding that the money will be used for social benefits, education, medicine, and other priorities.
"Ukraine continues to attract money from partners, with an almost $1.1 billion loan expected from the World Bank," Shmigal wrote in a Telegram post.
The prime minister added that the country also expects to obtain €162 million ($177 million) in financial support from the European Investment Bank as part of programs to restore Ukraine, while $190 million and $70 million would be allocated by Norway and Switzerland, respectively.
Earlier this week, the Ukrinform news agency reported that EU military aid for Ukraine had reached €27 billion euros (some $28.8 billion) since the beginning of the conflict, marking a record high in the bloc's history. The military assistance includes ammunition, air defense systems and tanks.
Meanwhile, financial, military, humanitarian, and refugee assistance provided by EU member states to Ukraine has already amounted to about $89 billion.
Last month, Gavin Gray, the head of the International Monetary Fund's (IMF) mission in the country, said that over time international support for Ukraine would inevitably decrease, urging Kiev to develop internal resources for self-financing.
In April, Ukrainian Finance Minister Sergey Marchenko said the monthly deficit of the Ukrainian budget had totalled $5 billion, with two-thirds covered by foreign loans and grants, while three-quarters of spending goes to military needs.
In August, the Finance Ministry reported that Ukraine's national debt had exceeded $132 billion, having increased by $4 billion in July alone.
The IMF previously projected that Ukraine's state debt would amount to 88.1% of GDP in 2023, and would exceed 100% of GDP in 2025.
For more stories on economy & finance visit RT's business section
You can share this story on social media: